After five tornadoes swept across Kentucky recently, a kindhearted man drove for half an hour to Mayfield with a truckload of food and grill for the tornado victims.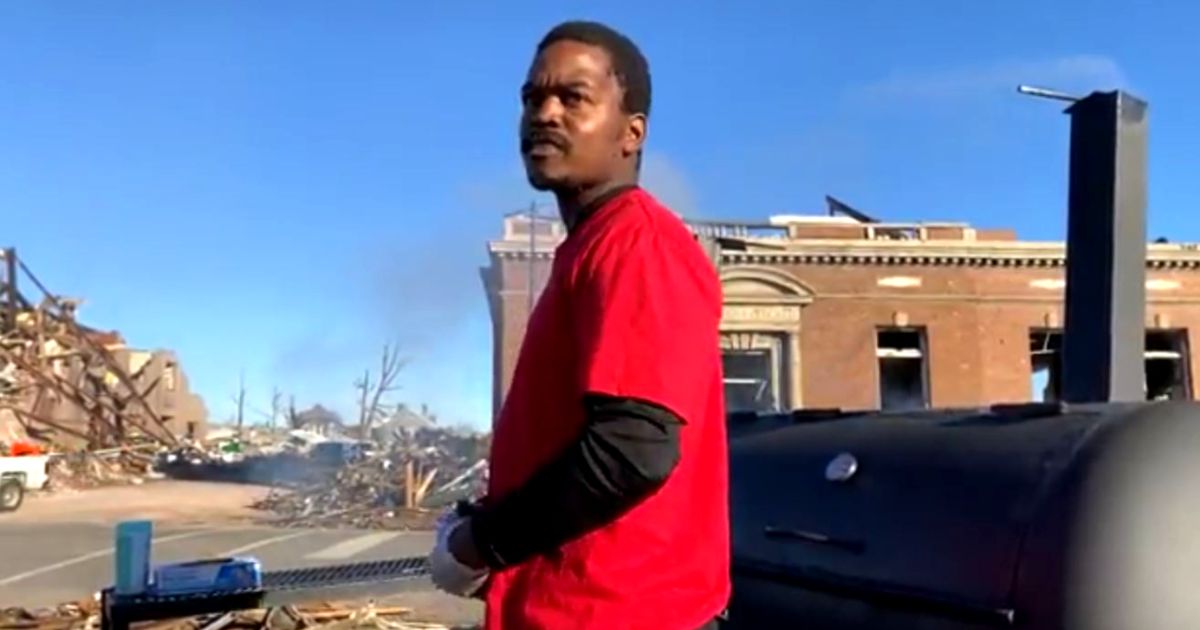 "It just needed to be done," said Jim Finch. He did his part after the tornadoes destroyed Kentucky, leaving rubbles, debris, blown away roofs, and shattered windows all over the place. They transformed a once vibrant state into a ghost town.
He went to Mayfield, Kentucky, to set up a grill and feed the tornado victims. "I know they don't have no electricity, so that means they don't have no electric, no restaurants, no running water, so I just figured I'd do what I can do," the Good Samaritan explained. "Show up with some food and some water."
He gave the people a glimmer of hope with the kindness he showed. He brought hamburgers, chicken, sausage, and eggs. "Just the little simple stuff you can have and not have to worry about making a mess or you know grab and go type of food," Jim explained.
"Jim Finch brings light. I am sure the church service did too, and so do you for documenting it," a netizen commented when this brave act was posted online. Another one wrote, "What a blessing he is. He is warming hearts and bellies with his act of kindness." "Such a kind human being. I am humbled by his generosity of spirit!" someone commented.
Watch: Jim Finch Delivers Truckload Of Food To Kentucky Tornado Victims
Jim Finch traveled with a grill and a truckload of food to Mayfield, KY to feed those devastated by last weekend's tornado.

We salute you, sir! 🙏 #Mayfield #JimFinch pic.twitter.com/MgjOGCUntv

— The Undefeated (@TheUndefeated) December 13, 2021
Kentucky Governor Andy Beshear said that more than 100 people were inside a candle factory in town when the building collapsed, Weekend Today reported. "That will be, we believe, the largest site, the largest place of loss," he said. Some deaths are still unaccounted for. Several tornadoes also slammed states in the South a few days back.
Jim's act of generosity and love sparked hope for the people of Kentucky. Experiencing God's love through people like him makes each day bearable and something to look forward to for these people who are facing an unexpected challenge at this season.