After a tornado savagely swept across Kentucky several days ago, Jordan Baize sat on his roofless home, amid the debris and played a worship song.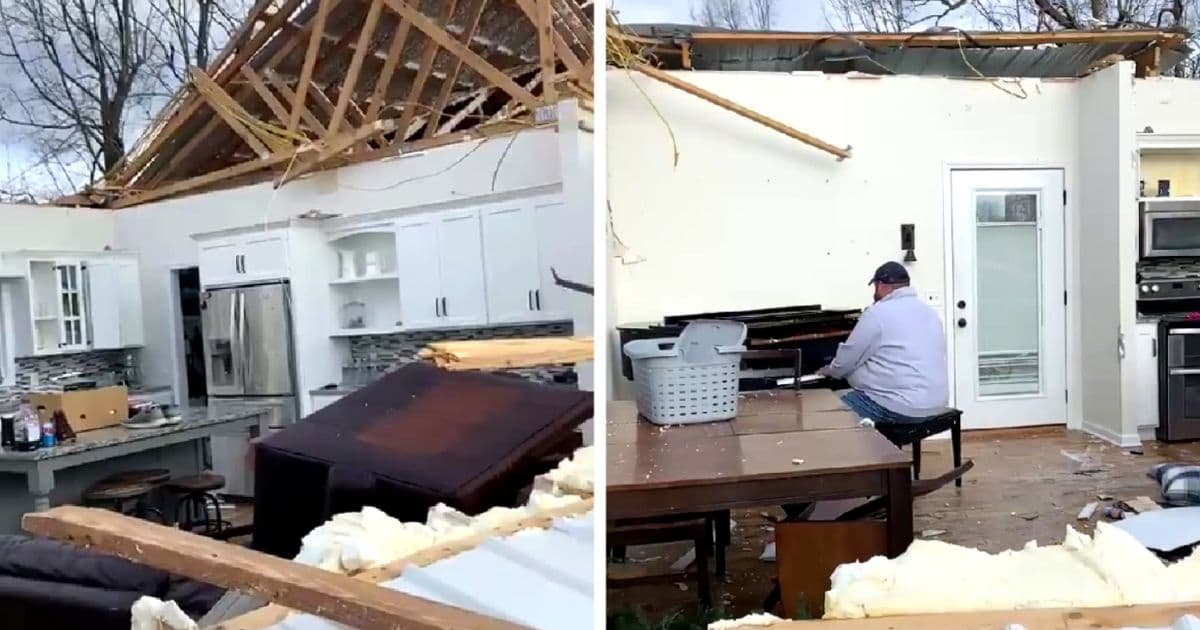 The tornado flattened many buildings and homes, and the death toll is still increasing. At least 70 people died in Kentucky alone after it swept through the South and Midwest, The Washington Post reported.
People can undoubtedly feel the grim and sadness all over the place, especially now that we are just a few weeks away from Christmas.
But, Jordan refused to be defeated by sadness and despair. He sat down and played Bill and Gloria Gaither's "There's Something About the Name" on his grand piano. His sister, Whitney Brown, was in his bedroom looking for things she could still save when she heard the song.
He was unaware that she went out and recorded the beautiful moment. This amazed sister posted the video on Facebook. "I have been overwhelmed by the love my family has been shown today," she wrote. "My brother, Jordan, lost his home, but thankfully, he and his family made it out safely. I was standing in his bedroom packing anything I could salvage, and I heard the most beautiful sound: music."
This faith-filled man played a worship song amid the destruction and despair. "Everything around him was broken. The piano had water damage, it had missing keys, and he didn't know I was filming, but still, he used his gift to glorify his God the best way he knew how," Whitney added.
His initial response was to worship God right after a tragedy. Instead of asking and blaming Him for what happened, he still chose to praise Him at such a difficult time. The goodness of God is still evident since all of his family members survived. He remains good and loving no matter what.
Watch: Kentucky Man Plays Gospel Music Among Debris After Tornado Destroys His Home
I have been overwhelmed by the love my family has been shown today. We are all safe, thank God. My brother, Jordan, has lost his home but thankfully he and his family made it out safely. I was standing in his bedroom packing anything I could salvage and I heard the most beautiful sound. Music. Jordan was sitting at his grand piano, playing the Gaither tune There's Something About That Name. Everything around him was broken. The piano had water damage, it had missing keys, and he didn't know I was filming, but still he used his gift to glorify his God the best way he knew how. Enjoy his God given gift. 🤍

Posted by Whitney Brown on Saturday, 11 December 2021