Cows have becomecan't seem, to big fans of jazz music after hearing an Oregon man play the saxophone and cannot seem to get enough of it.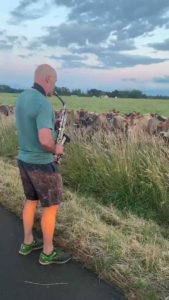 Rick Herrmann attracted a group of cows when he played on Stevie Wonder's "Isn't She Lovely," George Michael's "Careless Whisper" and The Champs' "Tequila." Herrmann's daughter, Erin wrote online, "My parents are such goofs they drove out to the backroads so my dad could play the cows the songs he's been learning on the saxophone."
The cows slowly gathered near Herrmann when he started playing Stevie Wonder's song, and then went on to play George Michael and The Champs, a neighbor even shouted "Tequila" as he was belting out the song. He says he started playing the instrument seven months ago "just to make people happy" – but did not expect such a good response so soon.
"It just seemed to resonate with so many people, so many people said they had a hard day and they watched it and it put a smile on their face," Herrmann rounded off suggesting the same songs which brought him, his first fans- 'Careless Whisper,' and 'Tequila.'
May Herrmann continue to entertain human beings and the animals as well and may he truly achieve great success in his musical journey.