A Michigan single mom and restaurant server has started the new year on a generous note after she was tipped $2,020.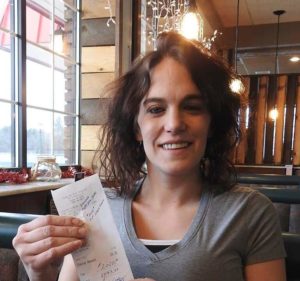 Danielle Franzoni received the tip for a $23 meal she served during a Sunday shift at The Thunder Bay River Restaurant in Alpena.
The bill said "Happy New Year. 2020 Tip Challenge."
This act of kindness blew 31 year old, Franzoni away as she said, "Things like this don't happen to people like me."
The server used to live in a homeless shelter a year ago. "They don't know nothing about my story. They don't know where I've come from. They don't know how hard it's been," Franzoni said of the couple who left the tip. "They're really just doing this out of the kindness of their heart."
Franzoni plans to get her driver's license reinstated and build up her savings.
She has already paid it forward after she left a $20.20 tip at another restaurant. "That was my pay-it-forward," she said, adding: "I couldn't do the other one," speaking about the $2,020.
Franzoni has started the new year on a generous note by first receiving a gift and then by paying it forward to someone else.