Most of us don't like a cop around us, and often feel jittery about them, but a woman in Oakland, knew exactly how she felt about cops: she didn't like them one bit. To add to it, her boyfriend was arrested over something, and so she was not happy with them.
Recently when she was out on a quick errand, she was involved in a car accident, but thankfully her young son and she were fine.
As she had planned for a quick errand, and hadn't packed any supplies for her and her son, she had no idea as to how long it would take for the cops to arrive, since there no injuries involved the cops did not place her case on priority.
As she and her infant son waited, she did not have any snacks and diapers on her, which could become an issue for her.
It was a while before Officer Hernandez arrived at the scene, and when he saw the condition of the mother and son, he decided to go above the call of duty, rather than just finish the accident report and leave.
He took them to the store and bought diapers, snacks and milk for them. He truly was a noble police officer as he went above and beyond to help them out.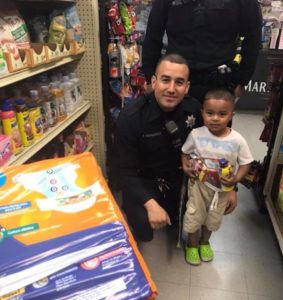 After the incident, the mother took to Facebook to share the story, and detailed the entire incident and how Hernandez had been so kind to her son and her.
She says that Hernandez talked to her and made sure that she was okay not only physically but mentally as well, after taking care of her son's immediate needs. She also added that her life was difficult and she was going through tough times, but the police officer gave her valuable feedback and advice, for which she was grateful.
She ended by saying a big thank you to Hernandez and that she would never forget the conversation she had with him and also told people that she was a person who never thought she would ever appreciate the police, but now says that not all of the Oakland police officers are the same, and some really care about people.