As the scary COVID-19 pandemic continues to wreak havoc on people everywhere, singer/songwriter Pink took comfort in faith as her son battles the virus.
She sang Gospel songs during her sick son's bathtime declaring the word of God and finding comfort in the words of the songs.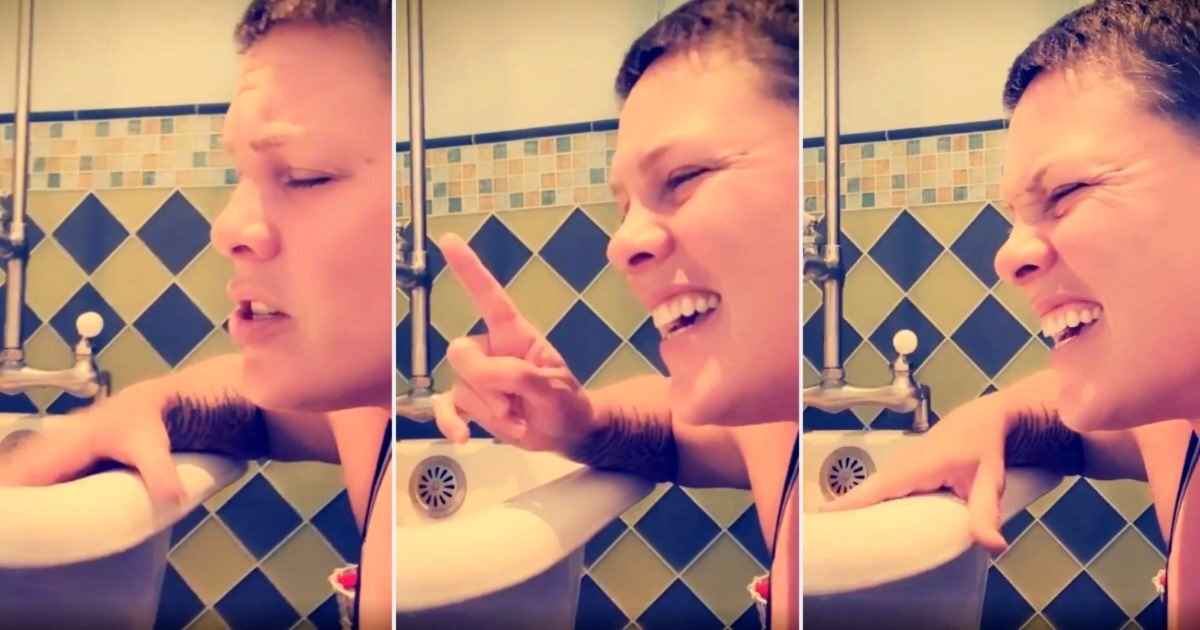 Pink, whose real name is Alecia Beth Moore, is among the many Christians who are turning to God for peace and refuge to fight the fear brought on by the novel coronavirus.
She shared a video on Instagram of her singing a Gospel song to help soothe her sick son.
As a worldly singer, Pink has a rough side to her, but she has been increasingly winning hearts all over with her kind acts, recently Pink stopped mid-concert to comfort a fan who had recently lost her mother.
Now as a mother, she is now singing Gospel songs to put her "heart at ease." The video of Pink singing Gospel to her 3-year-old son, Jameson, appeared on her Instagram page a few days before the rockstar announced her own battle with COVID-19.
Watch: Pink Sings Gospel To Son During Bath time
Pink was already self-isolating at home with her husband, Carey Hart, and her two children, daughter Willow (8) and son Jameson (3). But things got "really, really scary" when both she and her son showed signs of having coronavirus.
Pink already has asthma, which creates a higher risk of when combined with this respiratory virus. "I've been on nebulizers for the first time in 30 years and that's been really scary for me," the singer said.
Things spiraled out of control for her when he healthy 3-year-old contracted the virus and "had the worst of it." She said, "There were many nights when I've cried and I've never prayed more in my life," she recalled.
And as seen in the video of Pink singing Gospel to Jameson, the Christian celebrity helped soothe her son and herself during the scary time by relying on faith. "Faith is always a comfort," she said.
Pink's husband, Carey Hart, and daughter Willow remained healthy during the quarantine. Thank God now Pink and her son seem to be doing better. "I'm hoping we are out of the woods but this thing is a rollercoaster. Just when you think you are better, something else happens," she said.
View this post on Instagram
Apart from sharing her heart, Pink has planned to give $1 million dollars to support the national fight against coronavirus. She is giving $500,000 to the Temple University Hospital Emergency Fund in Philadelphia, where mother, Judy Moore, worked for 18 years. The other $500,000 will go to the City of Los Angeles Mayor's Emergency COVID-19 Crisis Fund.
Pink also posted a heartfelt thank you to the heroes on the frontlines battling COVID-19, and urged her fans to take stay-at-home orders seriously. "THANK YOU to all of our healthcare professionals and everyone in the world who are working so hard to protect our loved ones. You are our heroes! These next two weeks are crucial: please stay home. Please. Stay. Home."
Psalm 46:1 "God is our refuge and strength, a very present help in trouble." We believe that God is watching over us and our families during this time of crisis, this time too shall pass and we shall see the goodness of the Lord all the days of our life.