The police are facing increasing scrutiny from all quarters after social justice issues and racial inequality protests have rocked our country. But all cops should not be painted with the same brush as there are heartwarming stories of police kindness and generosity in the news.
After a three-car accident in Coral Springs, this week, Janet Balestriero could not believe her eyes when she saw a police officer talk to a young boy whose car was involved in the crash. The conversation wasn't criticizing or talking him down but was seen chatting him up about his favorite Disney character!
Act of kindness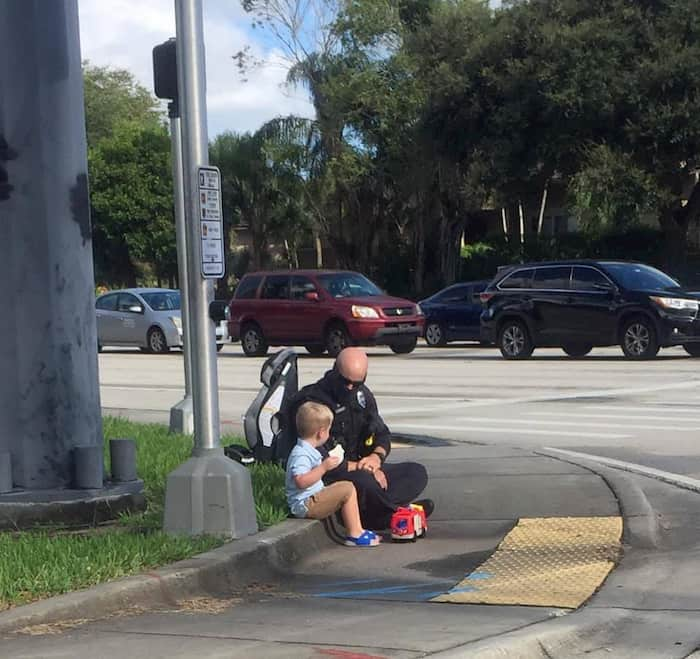 While the cleanup of the crash was being done around them, the officer and the child were sitting on a street curb, talking about his favorite Disney character, with a small firetruck toy between them. Balestriero took a picture of them and shared it on Coral Springs Police Department's Facebook page. "It was an act of kindness," Balestriero said. "I try to find a little kindness every day in a world that's gone crazy." The picture has been liked and commented upto 1,000 times.
Officer Bryan Dougherty, is the cop in the picture and he has been with the department since 2016 and is also a member of the SWAT team. Coral Springs Police Chief Clyde Parry said on Facebook: "So proud of our officers. Things like this happen often, but are rarely reported on."
Balestriero, a native of Coral Springs, lives in Pompano Beach. She was returning home from a doctor's appointment when she was involved in the crash which happened near University Drive and Riverside Drive. Thankfully, no one was hurt, she said. While waiting to speak with a police officer, Balestriero noted the boy and the cop speaking as his parent was dealing with the accident. Balestriero wanted people all over to see the compassionate side of the police after they were under increasing attack following George Floyd's killing. She plans to honor Dougherty more in the coming days.
She says someone in her group plans to paint a rock with the image of a Disney character and Dougherty's badge number on it and keep it at the Coral Springs Police Department. "A single act of kindness can have a ripple effect," she said. "We have to see the kindness in the world."