This encounter was so unforgettable for the homeless elderly woman, the police officer, and the stranger, which left all of them in tears.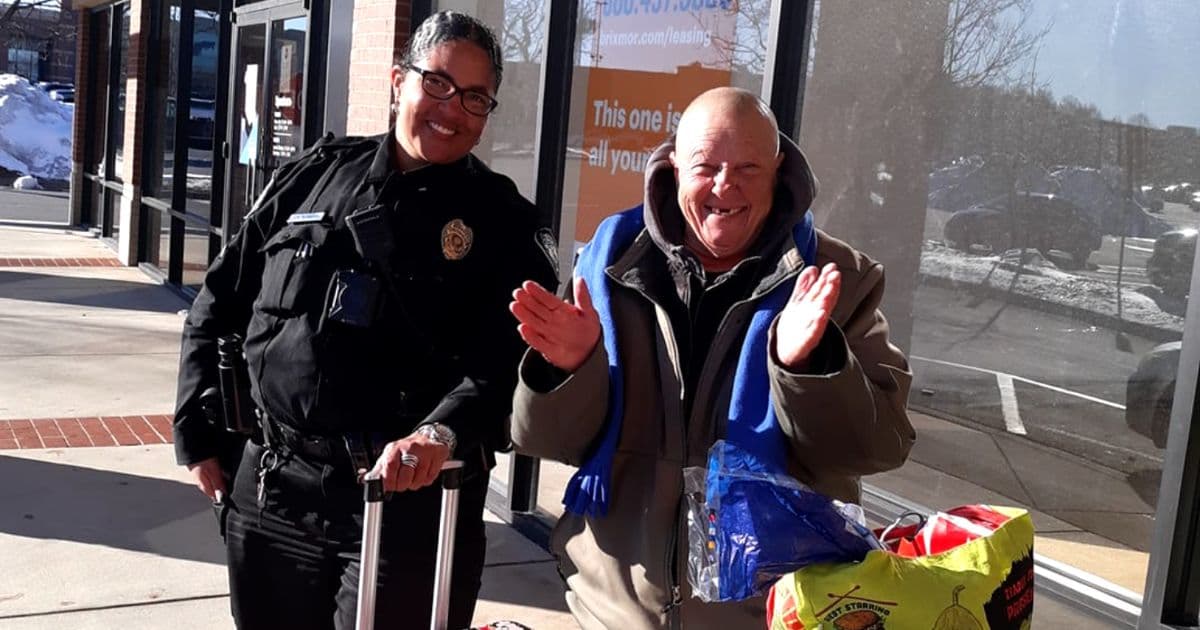 It's not every day that a helpless homeless woman finds people who care and will go out of their way to ensure her needs are met. It was a typical day when Tammy saw Connie out in the cold. The temperature was in the teens, and the wind chill made it all the more unbearable.
Anyone outside would certainly shiver in the said circumstance. Tammy was driving when she noticed "Ms. Connie huddled up in the freezing cold, as car after car zoomed past her." She was rocking back and forth, trying to stay warm, and not asking for money from anyone. She knew she needed to do something to help the elderly woman.
The kindhearted stranger pulled over and talked to Connie. She found out that she tried to get into shelters, but the bus drivers did not allow her to travel with too many bags. She proudly showed Tammy 'her treasure' in the buggy which were mostly, blankets to keep her warm.
Tammy tried calling shelters that could accommodate Connie. Sadly, none of them picked up. She knew that she could not just leave the elderly woman on her own, shivering. She said, "My heart was breaking at this point, as I didn't know what else to do and I couldn't bear to leave her there at the mercy of the elements."
She then came up with a brilliant idea. She called the Greensboro Police Non-Emergency line. She was told that an officer would come over to check on Connie. Mrs. S. McDonald GPD responded to the call, she informed them that all shelters are full. But she knew that she could not leave Connie out in the cold. S. McDonald thought of letting her stay in a church instead. Due to the freezing temperature, some churches have opened their doors to accommodate anyone who seeks shelter for the night. She informed Connie to call 911 if she could not get any means of transportation to go to the church by 8 PM.
But, Connie still had one big problem, "They're not gonna let me bring my things in. What will happen to my things?" she said. To ensure that this homeless woman would be able to travel conveniently, S. McDonald came up with another brilliant thought. She said, "Let's get you some luggage! Maybe if you show up with all your things tucked nicely in suitcases instead [of] bags, both the bus drivers and shelter will be more likely to let you in with all of your things."
And off they went to Ross. The trio found two large suitcases for Connie's stuff. They got a white one and another with a Betty Boop design (Connie's fave). But, Tammy was surprised when S. McDonald said, "you get one and I'll get one, that should be enough to hold her things."
Tammy did not expect this to happen. She said, "I didn't expect McDonald to purchase anything. I was honestly taken [a]back by her gesture." The trio went to work and placed all of Connie's stuff inside the suitcases. The moment was just so special, that they could not stop their tears from falling. They shared a good cry.
They were touched and in tears for different reasons. Tammy said, "Connie, because she was overwhelmed with gratitude. Me, because it restored my belief that most of us are good and kind people. McDonald…I don't know exactly what choked her up, but her last words to me before parting was, "I wish I could do more."
Tammy wrote about this heartwarming, never-to-be-forgotten experience on Facebook. It was shared by Greensboro Police Department and hundreds have liked the story.
Tammy wanted to give the credit to whom it was due. She wrote, "The immediate generosity, concern, and kindness McDonald showed, is the reason for this post. So much focus seems to be on highlighting the corrupt, depraved, and horrible people who do the wrong things. We should do that, but we must balance all that negatively with some love and kindness. I wanted to spotlight McDonald for spreading some much-needed love and light into the world."
There will always be something to be thankful for no matter how challenging things are. Every person has something great to contribute. We can make someone's day better by random acts of kindness, and in this case, "two pieces of luggage and sharing a good cry" were what it took to make Connie's day a whole lot better. 
"This is my commandment: Love each other just as I have loved you." John 15:12