The Saskatoon Police Service has shared a heartwarming story about how one of their staff responded to a mental health call some weeks ago on their Facebook page.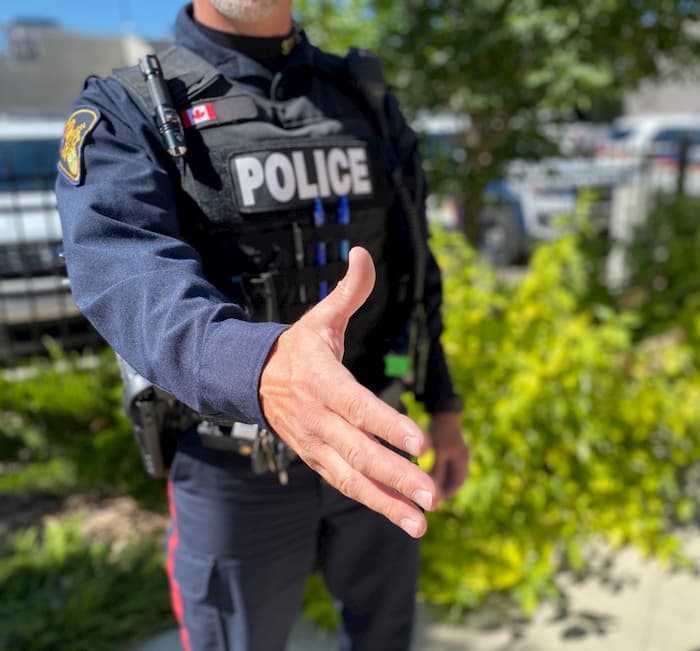 A senior officer who witnessed the interaction while driving home that day wrote: "A few weeks ago I was traveling home from work in the Duty Officer's vehicle, which is equipped with an SPS issued radio. I heard a call come in regarding two social workers who were trying to catch an adult male who ran from a personal care home. This male was in his mid-twenties, however, functioning at a very low level. The threesome was running westbound through the Shoppers parking lot at the corner of Attridge Drive and McOrmond Drive.
He continued, "As I approached, I could see the male running west through parking lots, with a social worker following, who looked exhausted and quite shaken. The subject male ran into rush hour traffic on Attridge Drive and I could see that he was obviously confused and in a very dangerous situation. I blocked eastbound traffic, just as a marked police car arrived behind me. What happened next will have left a lasting positive impression on the man, his care provider and has certainly impacted me"
He said that the SPS Constable stepped out of the car and simply extended his hand to the young man who was quite tired by now. He ran straight to the Constable and took his hand. The Constable then wrapped his arm around him and spoke softly to him.
He was calmed down and then together, they sat down on the grass with the Constable still holding him close. The care provider then arrived and there was an all-round sense of relief.
This story is going viral for the way the call was handled by the Constable who showed genuine care and concern for the young man.