A young Starbucks employee got a boost of good news when her mother pulled up at her drive-thru window and surprised her by telling her that her 13-year-old sister is now cancer-free.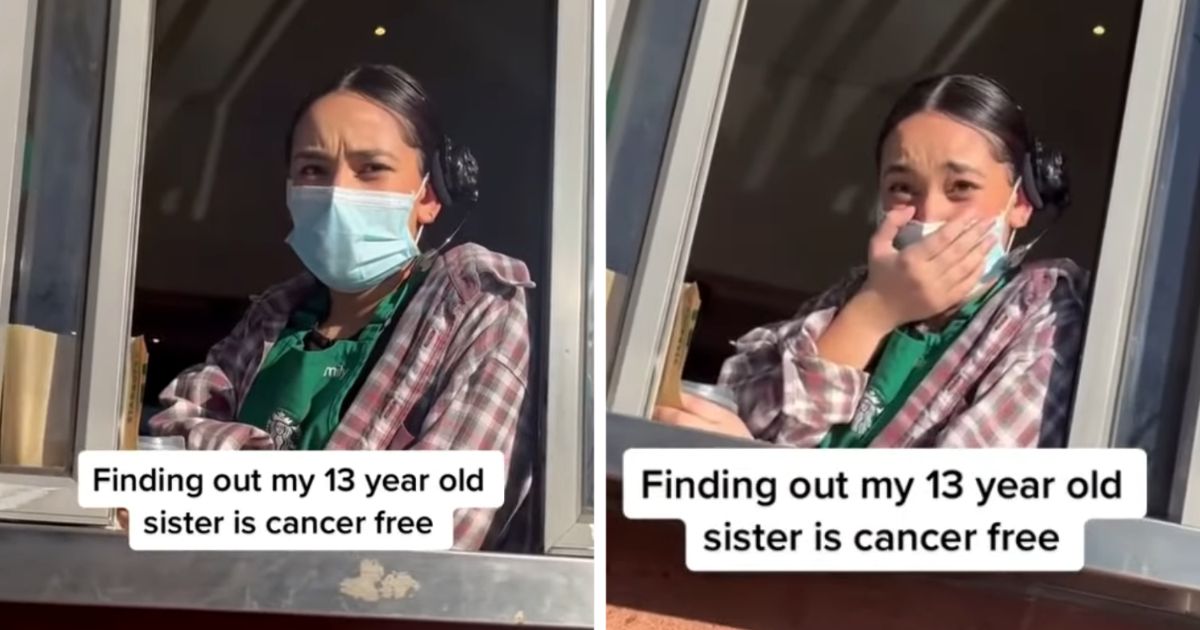 Nothing sounded better to the 18-year-old Starbucks barista than the news that her younger sister had beaten cancer after being diagnosed with Acute Lymphoblastic Leukemia in August 2021.
Megan, 13, had been having treatment for months, but recently in February, the doctors told her mom, Christine, 41, the good news that she was cancer-free. Christine was so excited that she stopped at Starbucks to first let Emily, 18, know about it before she could go home and tell Megan.
Heartwarming footage of the moment was captured by Christine as she drove near the Starbucks window has gone viral on TikTok, with more than 22.8 million views and 5.4 million likes. The video shows a stunned Emily breaking down in tears on hearing the terrific news that her sister was declared cancer-free by the doctors. 'You're gonna make me cry, are you serious?' she could be heard saying.
The reveal about Megan being cancer-free was a unique one where Christine began by ordering a 'grande latte with one shot of espresso and two percent milk,' and then asked for 'one pump of CAR-T and 100 percent cancer-free.' CAR-T immunotherapy is used for cancer treatment for blood cancers like leukemia and lymphoma.
Emily was taken aback and couldn't believe her ears at first and repeatedly asked her if it was true. 'You're gonna make me cry, are you serious?' she said. She started crying at work and wiping away happy tears telling Christina, 'Oh my god. You're making me cry at work,' she said.
Watch: Mom Surprises Starbucks Barista With Her Sister's Cancer-Free News
Life was very hard for the family after Megan's leukemia diagnosis. It was a rare subtype found in only 1% of children and was resistant to chemotherapy. She had to undergo new immunotherapy with a bone marrow transplant to stop new cancer growth. Although there was just 25% chance of Megan's siblings becoming a perfect match for her according to doctors, miraculously three of her siblings were found to be a perfect bone marrow transplant match.
Megan got to know about this delightful news at a 'bone marrow match reveal' that was held at her grandparents' house in Ontario, California, in December. Doctors had told Christine that Megan's siblings were a match, but she didn't want them to tell her who it was and asked if the name could be mentioned in an envelope that would be announced at the reveal.
To Christine's shock and happiness, they discovered that all her siblings Brianna, 22, Emily, 18, and Ben, 12 were perfect matches after they sang 'Happy Donor Day' and opened the box with the three baubles. Excited Christine said, 'Megan is getting a second chance at a healthy life because of her sibling. This is worth celebrating,' Christine said.
'I wanted to throw a party and shout from the rooftops that our prayer was answered. 'I've seen so many gender reveal parties, so why not throw a Bone Marrow Reveal Party? Both are announcing and celebrating a new life,' she said.
Jeremiah 17:14 "Heal me, Lord, and I will be healed; save me and I will be saved, for you are the one I praise."