A great-grandmother was desperately waiting for news on the birth of her great-granddaughter and was trying her best to stay updated with her grandson, Zach Garrett.
Beverly Garrett tried the phone numbers for her grandson Zach, who was waiting for his wife Sierra to deliver their daughter, Layla.
Zach was updating his grandma's group text, but something amazing happened next which restored his faith in humanity.
"My grandmother was trying to get a hold of me for updates, and she accidentally added my old cell phone number and my current number," he said. "When we first heard from him I was a little embarrassed that me and my grandmother were talking away with him stuck in our group chat, but his selfie brought so much humor to the situation. We all had a good laugh! Bobby could have been really rude or told us to take him out of our chat but he didn't. He was so nice about it."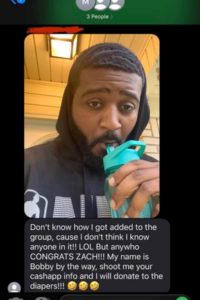 Bobby Watson is from Malvern, Arkansas. "I was actually added to the group weeks before responding," Watson said. He has a family member also named Zach and was feeling bad thinking he had missed an important piece of family news regarding a baby. But after Garrett sent the photo of Sierra and the baby, he immediately knew that they were strangers. However , he went ahead and became a part of the group.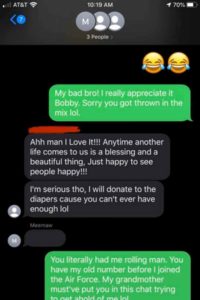 "I couldn't resist inserting myself," Watson said. "I felt it would make them laugh while already being in a joyful mood." Watson donated $50 to Garrett's cash app for diapers.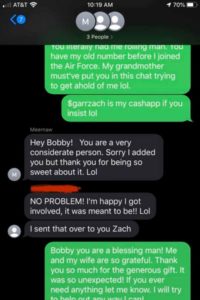 After Garrett posted the story and screen shots to Facebook, it got 50,000 shares and the $50 for diapers has now become $700 with donations from strangers touched by Bobby's gesture. Watson said, "I think people like the story so much because it was a real interaction between strangers that shows no matter race or gender people can be good to one another. In a time where it seems a social divide is being pushed … there's good people everywhere you go."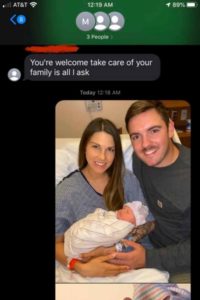 This story gives is a good reason to be cheerful that people still value interacting with others who may be rank strangers to them without having any selfish or guile motive in their hearts, Watson could have easily got out of the group but he stayed on and became a blessing to the Garrets family.
So unexpected, but people are good. Thank you Bobby!

**UPDATE**

We cannot thank you guys enough! May God bless you all, especially Bobby and his Family! So much love❤️

Posted by Zachary Garrett on Sunday, October 27, 2019