A team of animal rescuers helped a mother tamandua reunite with its baby that was lost a day before.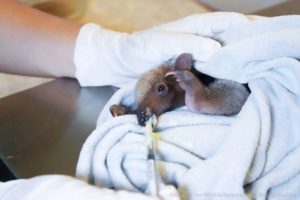 'Refuge For Wildlife,' a Costa Rica-based animal rescue organization were the ones who did this good deed as they rescue and rehabilitate orphaned and injured animals and then release them into the wild.
After this baby tamandua was separated from its mother the rescuers took it in. Rescuers speculate that the baby tamandua might have slipped from the tree tops because usually the mother leaves the child there, while she looks for food.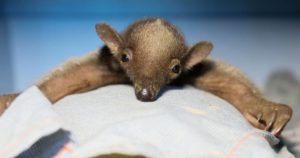 The baby tamandua was brought to the rescuers by a local resident who thankfully rescued it before any predators. The baby Edwin, was provided with medical check-ups and care. The rescuers tried to keep him cozy and warm with a warm bottle because his chances of survival is likely less without its mother at its side.
Thankfully, the next day the mama tamandua showed up at the same spot where its baby was found and the rescuers quickly rushed it to the spot and when mama saw her baby, there were no words to express how she felt, she was just ecstatic.
The kindness of the local resident and rescuers made it possible for the mama tamandua to reunite with its baby. The people were selfless in their ways and their act of kindness sure gives us a hope and an even bigger message.
Rescued Infant Tamandua Reunited with his Mother

Little Edwin, an infant Northern tamandua, was found on the ground alone. It is normal for tamanduas to leave their young behind in the treetops while they forage for food and we believe that this is when young Edwin fell to the ground. Thankfully he was quickly found by local residents before any predators spotted him. His mother could not be found so he was brought to Refuge for Wildlife for a medical check and some care and warm milk. At only one month old, we knew Edwin had a better chance of survival with his mother so we were very pleased when we heard that the mother tamandua had returned the following day. We quickly rushed him to the area where his mother was and we were able to successfully reunite Edwin with his mother!
——
El pequeño Edwin, un bebé tamandua, fue encontrado solo en el suelo. Es normal que los tamanduas dejen a sus niños en los árboles mientras buscan comida y creemos que esto es cuando el joven Edwin cayó al suelo. Afortunadamente, los residentes locales lo encontraron rápidamente antes de que los depredadores lo vieran. No pudimos encontrar a la madre, por lo que fue llevado al Refugio para la Vida Silvestre para un chequeo médico y algo de cuidado y leche. Con solo un mes de edad, sabíamos que tenía más posibilidades de sobrevivir con su madre. Estábamos muy felices cuando escuchamos que la madre había regresado al día siguiente. ¡Lo llevamos rápidamente al área donde estaba su madre y pudimos reunir a Edwin con su madre!

Posted by Refuge For Wildlife on Tuesday, November 27, 2018