An extraordinary story of a Michigan elementary school teacher going above and beyond his duties when he took his former students to their school's annual father-daughter-dance, only weeks after they lost their dad, is winning the hearts of netizens.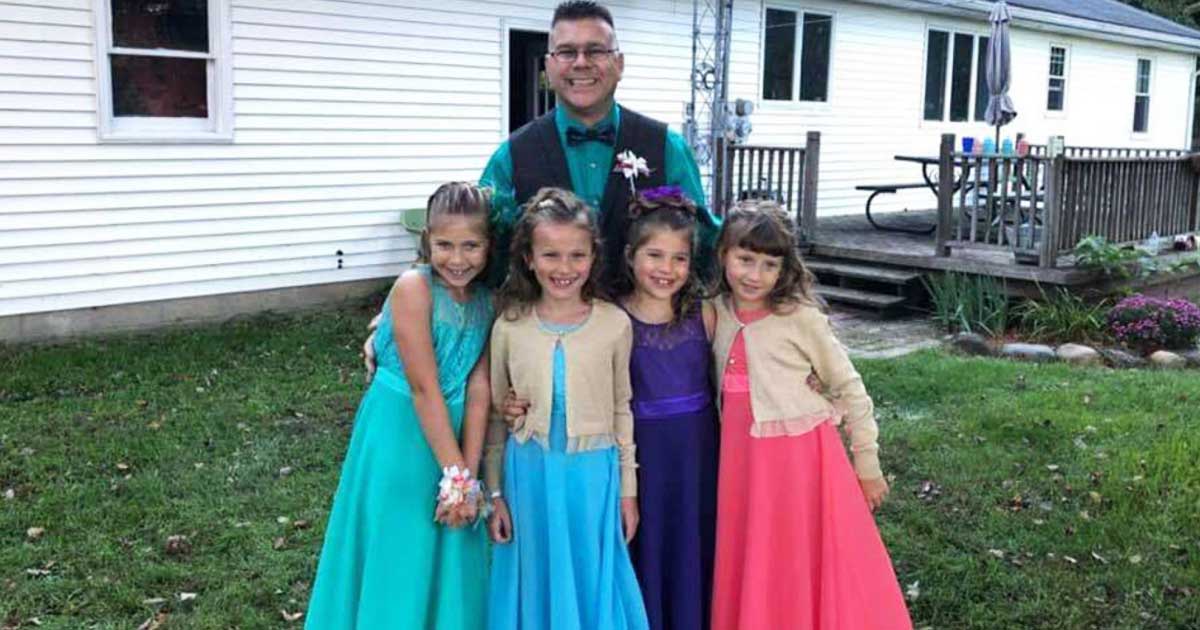 Steve Culbert took two little sorrowful girls, Avery and Alivia Reece to Hanh Intermediate School's annual dance in Davison, using the help of his own daughters, Hailey and Aliyah, who are friends and classmates of them.
The doctors later found he had Protein C deficiency which caused multiple blood clots in his body, lungs and legs, this came as a big blow to the family. Luke then suffered the ultimate blow- a cardiac arrest, which ensured that he never regained consciousness and died.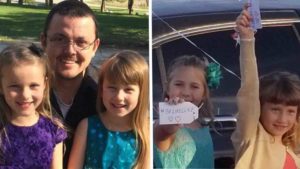 "It is still like…I can't believe it. This is not supposed to have happened," his wife Shelley Reece said. Luke liked to do yard work, gardening, playing baseball and golfing, according to Shelley, and he loved his daughters the most. He was a "gymnastics dad," and took Avery and Alivia to every father-daughter dance in the last four years in the school.
Steve, was friends with the Reece family as Avery and Alivia had been in his second grade classes, felt inspired to help the family in this time of need.
"I'm a teacher because I knew where I need to be and knew what I wanted to do finally," he said. "I love my students and from day one, I tell my students they are family … You can't just say it, you have to live it."
Steve knew what it felt like to lose family members as he too had lost his older brother, who was 14, to cancer in 1984.
"I know what it's like to hurt as a kid," Steve said. "Seeing my brother go through what he went through at that age — he was the strongest person I've ever known."
Steve had visited the hospital during Luke's final days there to offer them a little extra support.
"I wasn't necessarily trying to be a father figure, just someone they knew that they could turn to," he said of the gesture. "They have a great family. Their dad was their everything."
After speaking to his wife Katie, he thought of a plan of inviting the girls to the father-daughter dance that Luke always brought them too — and Shelley, Avery and Alivia accepted.
On the day of the dance, the Culbert family took Avery and Alivia for breakfast at Tim Horton's, a trip to the playground, and a visit to the salon for special hairstyles. Then the Reece sisters attended their aunt's wedding, and returned home to a special surprise — a limo.
"When we were on our way, I said, 'I don't expect you to treat me like your dad. I know he's here with us,'" Steve said.
To make sweet memories, Steve gave Avery and Alivia red balloons inscribed #BeLikeLuke to be released in their father's honour and memory, he said it was "a proud and emotional moment."
The evening ended on a sweet note for Steve and the four girls: ice cream at McDonald's.
"I couldn't be happier with how it turned out," the dad said of the special night, adding that Hailey and Aliyah were happy they were able to bring a little light to their friends' lives during an incredibly difficult time.
Their mother, was very grateful.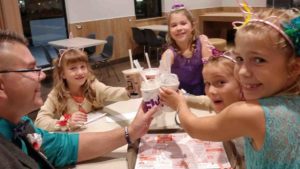 "It's just so good that someone outside of the home is looking out from them," Shelley said, "I just want to thank Mr. Culbert and everybody for making sure the girls had a night to remember."
This is such a sweet gesture of an outsider trying to make it up to the family who was going through so much grief and pain. Kindness can really touch a soul so deeply.