This teen's efforts to help her dad raise her five siblings after their mom died indeed paid off. She was stunned when she received surprise gifts that were too good to be true from Secret Santa.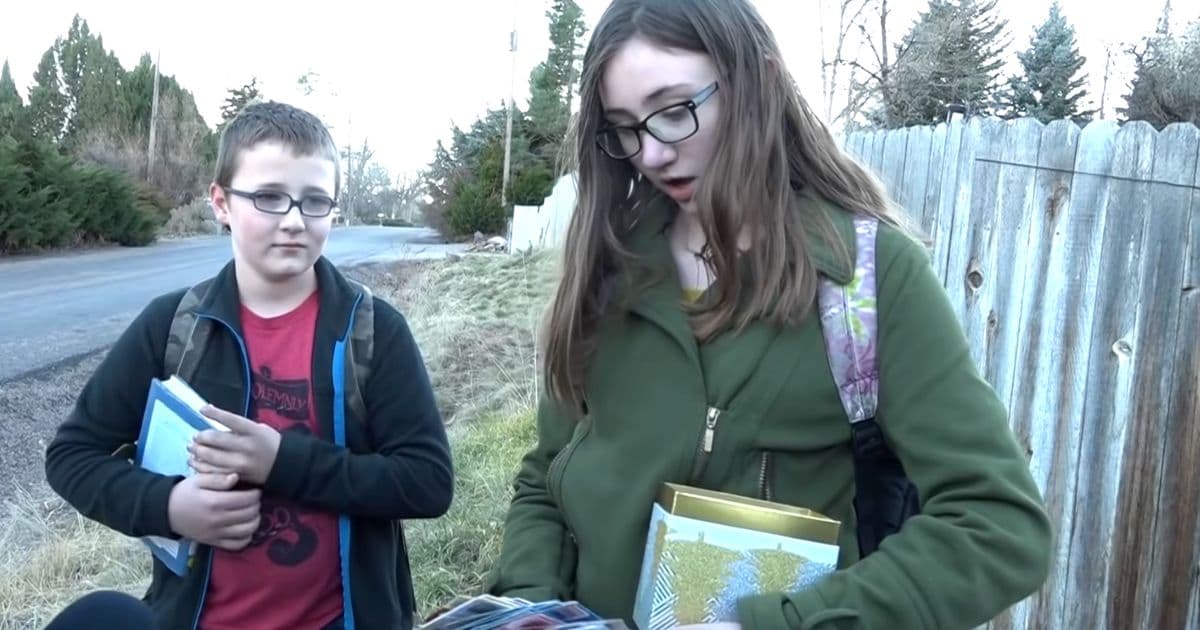 Emily, a grade 8 student, had her share of challenges. Her grandma passed away a few years back, followed by her mom, who died last year. Both of them succumbed to the big C. Her mom was diagnosed with Pancreatic Cancer. She passed on a little over a week before her birthday.
This loving teen has always been there for her family. She's a responsible sister. She stepped up to take care of her siblings when their mom was gone. She's a great help to their dad as she takes care of them when they're hurt. This sweet sibling cheers them up on their not-so-good days and cooks for them as well. It brings great delight to her when she cooks. Cooking is one of her greatest passions. Emily is a Master Chef in the making!
It is challenging for her and her family to adjust to the new dynamics since her mom passed on. That's why a friend of hers wrote Secret Santa so that she could surprise her kindhearted pal with a great Christmas gift.
East Idaho News elves led by Nate rushed to their home to surprise her with not only one but three boxes with treats and Emily's favorite things. East Idaho News was tasked to give lavish gifts from a Secret Santa to anyone deserving of them in Idaho. They went to their house only to find out that she was not home yet. Her dad told them that she would be arriving from school anytime now.
After several minutes, they saw and approached the 13-year-old girl and her brother while they were walking on the way home. They introduced themselves and told them that they had gifts for her. "We have presents for you, and you can share them with your siblings," Nate said. It seemed that Emily could not yet figure out what was happening. She and her brother, Henry, looked shocked and perplexed when they met the news elves team.
Nate explained that an anonymous person wanted to give these gifts to them. When she opened the first box, she was astounded to find several gift cards from different local restaurants. "What?", Oh my goodness! Thanks," was all she could say when she learned that the gift cards were worth $1,000. He said that her family could enjoy eating at any of these restaurants for some time.
Next, she was handed the second box. Henry opened it, and judging from their reactions, they were pleasantly surprised to see what was inside. They gave $2,000 worth of gift cards for their personal needs. They can use them to purchase clothes, shoes, etc., for the entire family.
"This is not a joke," Nate said. "You look like you kinda questioning what's happening here." The young woman exclaimed with an ecstatic, "yeah, yeah, I'm questioning."
Secret Santa's not done yet. She was about to be bowled over by what Nate would hand her next. This was an extra special treat for her, especially because she loves to cook. Emily received a $1,000 gift card from grocery stores and another $1,000 gift card from Bed, Bath, And Beyond. She can use it to buy any kitchen/cooking item she wants.
She almost went to Bed, Bath, and Beyond that day to buy stuff. Thankfully, she did not go as planned because a big surprise awaited her.
"Merry Christmas, you guys," Nate cheerfully greeted them. "Thanks," Emily cheerfully replied. "To whoever did this, thank you," she added. The sudden change in her demeanor was noticeable. She was more relaxed and cheerful compared to when she first met Nate. She even waved to the camera and said, "Thanks. Thanks a ton," to her Secret Santa.
Emily then said bye to the news elves and assured them that she would share her gifts with her dad. When her dad found out what she had received, all he could say was, "Oh wow," several times. "That's awesome. Thank you guys so much."
Christmas will surely be merrier for this loving daughter and her family. This is God's way of showing them that they are well taken care of. God used secret Santa to show His love and concern to His people. We may not be able to give gifts as grand as what they had provided, but we can still spread God's love to many through our simple, small acts of kindness.
"A generous person will prosper; whoever refreshes others will be refreshed." Proverbs 11: 25