With graduation days being celebrated all over the country, a wheelchair bound student honored his mom at his graduation ceremony in a unique way.
Easley High School graduate, Alex Mays wowed the crowds gathered at his graduation ceremony when he got up and walked across the stage at the ceremony at Clemson's Littlejohn Coliseum.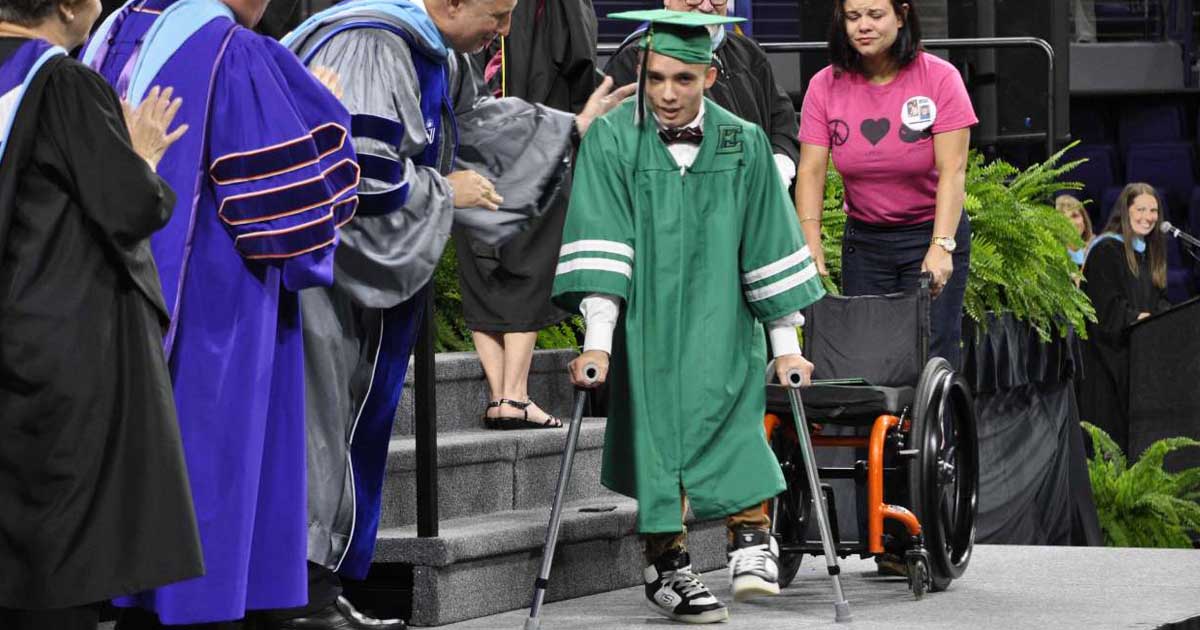 Mays, has used a wheelchair for most of his life, but when he got up and walked, the crowds gave him a standing ovation and several minutes of applause.
"I was really happy – it made me feel good," Mays said.
His grandmother Stephanie Dousay said, "God has a purpose for him," and added, "He's gone through a lot."
She continued saying, Mays was not given a chance to survive right from his birth, he was born at 25 weeks and weighed just 1 pound, 10 ounces at birth.
During his early infancy, he had a spinal cord injury, possibly from a bacteria, Dousay said. His life became worse after his mother's death in 2013.
Brandi Halsey Wilson Kearney died when a crane being hauled by a flatbed truck fell off the back and crushed her car as she drove along Pendleton Highway in Powdersvillein December 2013. She died a week later.
Mays then came to live with his grandparents, Dousay and her husband, Dewayne.
Dousay said that when Mays came to live with them, they decided to bring him up in the best possible way they could.
Last fall, Mays said that he would walk across the stage to get his diploma to honor his late mother.
He practiced with crutches and worked with a physical therapist for 9 months to complete his plan.
He took the help of his mom's best friend, Tonya Johnson, to push his wheelchair to the stage wearing one of his mother's favorite shirts, adding more emotion to the occasion.
"I had support from my family – friends from church and school. I couldn't have done it without them," he said.
"Alex was an inspiration to everyone in the building (that day)," Pickens County School District public information specialist John Eby said. "The school staff knew he was going to get up to get his diploma, but the distance he walked was a surprise, even to them," Eby said.
"Some of life's most important tests aren't given in a classroom; Alex tested himself and passed with flying colors," Eby said.
What a wonderful way, Mays chose to honor his late mother, we are proud of what this young man has accomplished in his life.