An elderly woman's impromptu performance at a Goodwill store went viral on social media.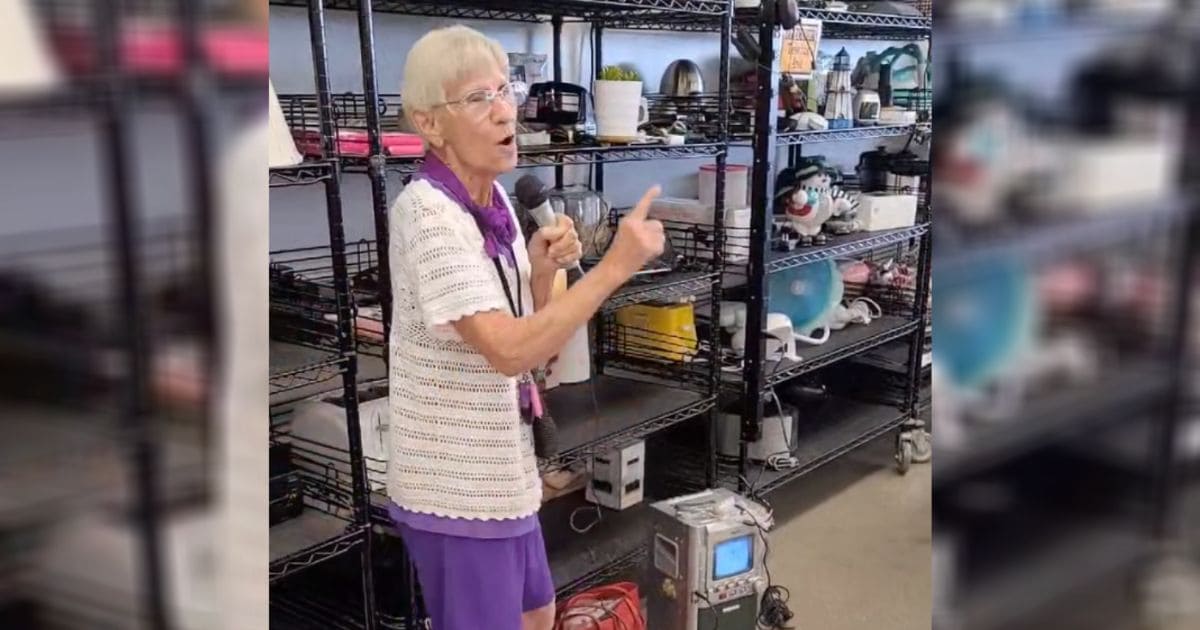 Deanna Mae Garvin describes herself as "a very shy and backward girl," but none of that seemed accurate when shoppers at a Goodwill store in Hamilton, Ohio, saw her sing.
The incident happened when Garvin visited the store to buy a new karaoke machine to take back to the nursing home she visits, and an employee helped her get one off the shelf and then asked her to sing a song in return.
Ms. Garvin did not hesitate to pick up the microphone and belt out the Christian song, 'He's Got the Whole World In His Hands.'
She was captured on camera by shopper John Schuerfranz who later posted it on Facebook. "She told me she found the Karaoke machine and she wanted to take it back to the nursing home she visits," Schuerfranz captioned the video he posted on Aug. 8, adding that she was "so energetic."
Deanna was dressed up in a bright purple outfit with a white crochet vest, as she belted out the words of the popular Sunday School song, 'He's Got the Whole World In His Hands.'
She kept other shoppers enthralled during her performance and told them that she had worn out two other karaoke machines.
"She's just going along singing and looking at the camera, and just having a great time, and I thought 'this is wonderful.' I mean, what a spirit," Schuerfranz said.
The video was viewed 34,000 times according to WLWT Cincinnati, Garvin told them, "I love music and I love people," she said. "I was a very shy, backward girl and it's hard to believe, even for me," she said.
Her shocking performance wasn't the only surprise in store that day, because someone there bought the karaoke machine before she could hand over her money and buy it.
Schuerfranz somehow knew that Ms. Garvin's performance would be loved by people everywhere after he posted on Facebook. In the background, he could be heard saying, "This may go viral." He tells Garvin, "You may be an overnight sensation."
Watch: Elderly Woman Sings 'He's Got the Whole World In His Hands' At Goodwill
Dianna Garvin entertained us at the west side Goodwill. She told me she found the Karaoke machine and she wanted to take it back to the nursing home she visits. While she was shopping someone paid for it as a gift. She is so energetic..

Posted by John Schuerfranz on Monday, 8 August 2022