Life can be extremely hard and difficult for a stray dog on its own. In spite of being through the worst of times, Wunderdog Maggie has kept her loving and caring nature intact.
View this post on Instagram
Maggie was found tied to a box, blind, pregnant, with one ear cut off, and shot 17 times with a pellet gun in Lebanon before abandoning her. In spite of being found in this pitiable condition, the courage she showed has earned her the nickname of Maggie the Wunderdog.
View this post on Instagram
She was turned over to a UK based rescue group, Wild at Heart Foundation by the person who rescued her, and was taken to England to recover and find a forever home. Her story was seen by Kasey Carlin, the young lady immediately decided to adopt her. Maggie the Wunderdog went home to stay with Kasey who can't stop admiring Maggie's kind nature.
"The way she gives her entire heart to strangers. . . The way she has forgiven people, when the last thing she saw in this world was a human," Kasey says. "I think that has to be the most amazing thing about her. I still can't explain how she has managed to forgive like that."
Maggie has played a crucial part in Kasey's life as she has helped her heal from her anxiety and depression and her hesitancy in connecting with people. The dog's beautiful spirit has changed everything. "She is the piece I never knew was missing," Kasey explains.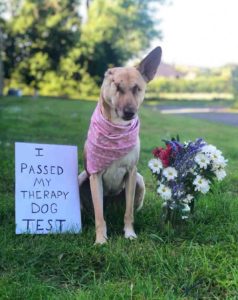 Kasey was suffering from depression in her life and it was because of Maggie, she got an opportunity to meet new people. She says she cannot walk down the road with Maggie without making new friends. Kasey was inspired to start Maggie the Wunderdog Instagram account and also has Maggie working as a therapy dog.
Maggie shares a special bond with Mishka, Kasey's other dog and also helped her come out of her shell, for which Mishka is grateful and acts as Maggie's guide dog.
View this post on Instagram
Maggie is spending her days doing good to everyone she meets, she visits the elderly in nursing homes, teaches children about bullying and overcoming disabilities and is a living proof of love overcoming everything. "She doesn't need eyes because she's learned to see with her heart," Kasey says.
This story has touched us so deeply, what a powerful account of this dog Maggie who chose to keep loving and shining the light even after going through the worst of situations.