America's Got Talent: Extreme is indeed not for the faint-hearted. Wheelz from Las Vegas earned a golden buzzer after attempting to land perfectly for the second time when he failed to pull off a dangerous stunt while seated on his wheelchair.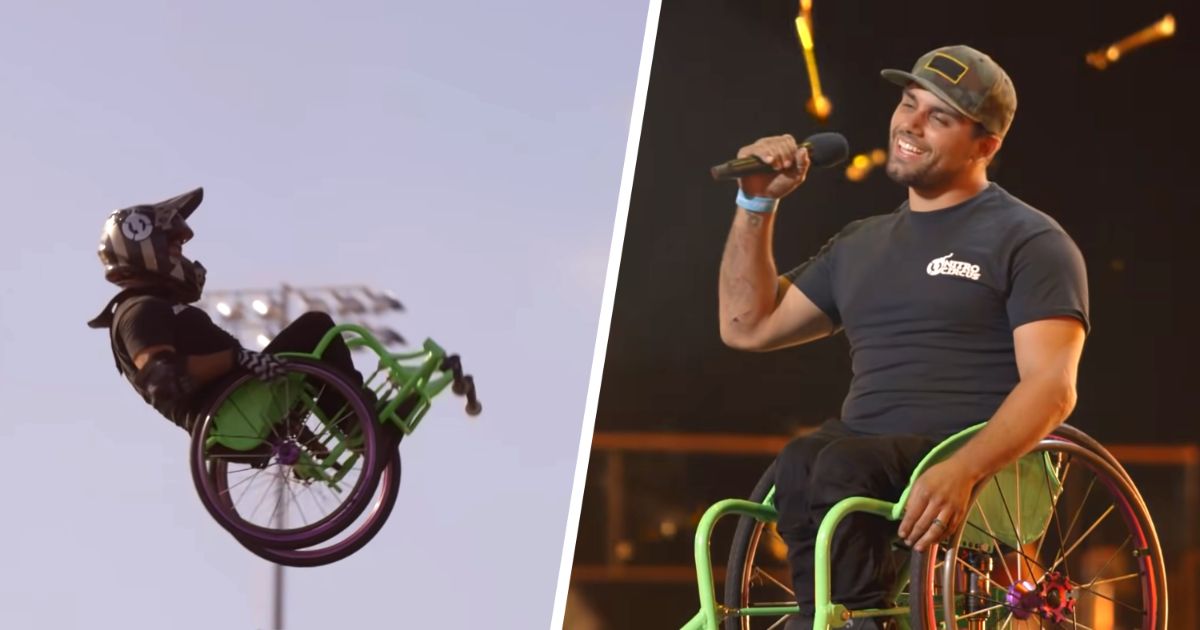 Aaron Wheelz, 29, is a wheelchair motocross athlete who joined AGT: Extreme to attempt "Ramp dropping into 40 ft. front flip." This stunt is already difficult for someone who does not have a disability. It is extra challenging for a person who has a disability, especially a debilitating one like "Spina Bifida."
"Spina Bifida" happens when a baby's backbone does not form completely. Aaron described this condition further, "Spina Bifida has always been a part of my life. To this day, I've had 23 surgeries. Before I started using a wheelchair, I was using crutches." He added, "Growing up with a disability, there's always this push that you should walk…almost always using a wheelchair means you gave up."
"But the wheelchair for me was freedom," he emphasized. He frequently went to the Skate park and watched guys on their bikes. Although terrified, Aaron gave it a try. He hit the bottom and fell on his face on the first attempt. This brave athlete was thinking back then that even though he did not land right, "he did it!" Obviously, he did not give up trying that's why he's now in AGT: Extreme.
He said that "that was the most unreal feeling in the whole world." This contestant also inspired viewers with the way he views things. He shared, "I can't ride a bike or a skateboard, but life gave me a different set of wheels."
When he conquered his fear and learned this sport, "that's when his life began." He is married to a beautiful woman, who has been his constant source of strength and support. In fact, his wife encouraged him to join the show. "She's definitely my number one fan," the grateful husband said.
Then, the long wait was over! This daredevil climbed up a 40-ft. ramp and dived down at an uncontrollable speed. He then did a front flip and fell facedown on the other side. Everyone was scared and worried for Aaron, especially Nikki, Travis, Terry, and Simon (judges and host of AGT), who watched him pull off the stunt on top of the ramp.
Simon was so worried and shocked that he did not want Aaron to do it again. The audience was equally shocked. But, this persevering man would not take defeat easily. He explained that "he over-rotated a little bit" and failed to land right. He asked for another chance and collected himself and climbed the ramp again. He showed the "heart of an extreme athlete."
Tension was building, and everyone was scared for this incredible man. Aaron made the 40 ft. plunge again, flipped, landed on the other side, but this time, he landed a perfect front flip on a wheelchair!
Everyone broke into loud cheers and applause when he landed perfectly and safely. Simon Cowell praised him for his courage when he said, "You defined why, I think, we made this show…You got every chance to win on this."
Nikki Bella said that "you are the definition of never giving up." She ended the show on a high note when she pressed the golden buzzer, which automatically qualified him for the finals.
Aaron has touched a lot of people on-site and online. This amazing feat has been viewed on YouTube for more than 400K views already. People from all over the world have expressed their support and praises for this fighter.
Aaron Wheelz had just proven that he was true to his words when the show started. He said, "Here on 'America's Got Talent: Extreme', everyone here is crazy. So for my performance, I'm pulling out all the stops. I've put in a lot of hours, a lot of crashes. It feels like I've been training my whole life for this. All my life, I've been proving people wrong and pushing the limits, and so, tonight, that's exactly what I'm gonna do."
We are looking forward to seeing you, Aaron, in the finals, and hopefully, be the last man standing brave and strong at America's Got Talent: Extreme. Thank you for inspiring us to face life's challenges head-on and not stop trying.