2-year-old Amelia Bubenik from Granite Bay, California, sang the national anthem perfectly on Independence Day. Her "The Star Spangled Banner," was a flawless performance and has since gone viral on the internet.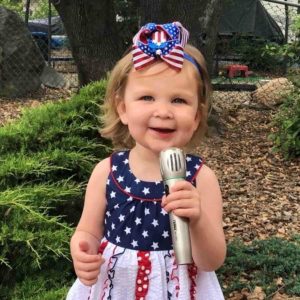 Amelia loves to song according to her mother, Amy Bubenik and her natural talent and love for the anthem is unmissable. "She had been singing it all the time," Bubenik said, "She would sing it any time a sporting event would take place. She would stop anything she was doing and sing it."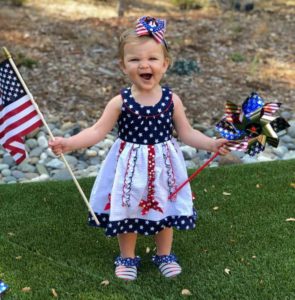 Amelia has a rich heritage as her dad and grandfather are Navy veterans and so her parents have instilled the same American values in her too. "Some have sacrificed their lives and we want our children to honor that," says her mother. It was her grandmother, who suggested she learn all the words to the national anthem. Bubenik said, "We decided to give her a little challenge and started singing the national anthem," Bubenik said. "We gave her two lines a day and about two weeks later she knew the whole thing."
Bubenik took the video of Amelia singing the song and shared it on Facebook. Amelia is standing on top of a rock, wearing a dress with the national flag colors, holding a microphone in hand, she can be seen belting out the anthem from memory.
"She sang it on the first try. I had chills the second I saw she sang the whole thing," her mother said. "It's amazing — the comments, the love of the song itself and Amelia's ability to sing it," Bubenik said. "Really positive and heartwarming to see so many people touched by the song and a tiny little girl like her singing it."
It is amazing to see a little child sing the national anthem so perfectly, her mom and dad have done a great job in instilling our American values in her right from a very young age.