A terminally ill teen with Down's syndrome just fulfilled her life long dream of becoming a real flight attendant  proving that dreams do come true.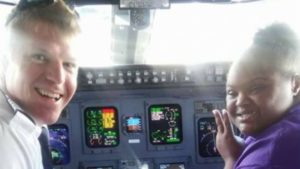 Shantell Pooser, or Shannie, is 17 years old, and was born with a heart condition and many terminal airway defects and has really struggled with her health her whole life. Shannie's mom, Deanna Miller-Berry, said that her daughter is an overcomer.
Shannie has spent much time between her home in Denmark, South Carolina, and Cincinnati Children's Hospital in Ohio, where she has gone through many surgeries.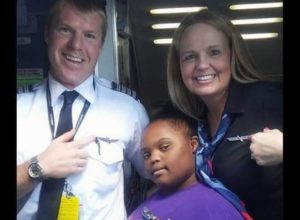 While flying across, Shannie made friends with lots of crew members and began wishing she could join them. Deanna says, "We became friends with a lot of the flight attendants and a lot of pilots, and she just kept saying, 'Mommy, I want to be a flight attendant.'"
In 2016, Shannie underwent a life-saving operation, and surgeons said that she would come out of it in extreme fragile conditions but her recovery was amazing and Deanna decided to make her daughter's dreams her number one priority.
Deanna said, "She came out singing 'Let It Go' from Frozen and added, "The surgeons were standing around like, 'We've never had anybody come out of this type of surgery talking … this girl is singing 'Let It Go' in ICU.' Deanna says, "I made a vow to God. I said, 'Shannie, no matter what you want to do when you get better, we'll make a bucket list and I'll make it happen. If you live long enough where the doctors can fix you 100 percent, I'll do my best to make your dreams come true.'"
Although Deanna knew it was impossible, but she still wrote a letter to a friend at American Airlines, asking if they could possibly send her some memorabilia for Shannie, but the airline went above and beyond as one of the pilots got in touch with Deanna and told her they had arranged for Shannie to celebrate her 17th birthday in October aboard a Boeing jet.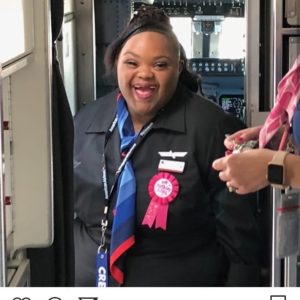 It was a party to remember as the entire first class was filled with Shannie's friends, family and even a few local celebrities, the crew even presented Shannie with an official uniform and badge, which she wears whenever she flies between her home and the children's hospital and she also helps the crew to demonstrate safety procedures.
But Shannie's growths which were removed during her surgery in 2016 have returned and she is scheduled for surgery again, Deanna meanwhile is hoping Shannie will come out stronger and will become an official American Airlines employee when she turns 18.
Next on Deanna's bucket list for her daughter is a meeting with the Obamas, an appearance on The Ellen DeGeneres Show and a hot air balloon ride to her prom.
Our prayers and best wishes for this brave mother-daughter duo and we hope that Shannie survives this ordeal and becomes an American Airlines permanent Flight Attendant.