Wonderful news from Australia, as it's atheist former governor-general, Bill Hayden, got baptized recently after years of denying God.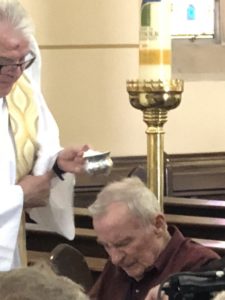 Hayden said the decision was taken after he spent years witnessing "selfless acts of compassion by Christians" which ultimately led him to give his life to Christ.
His baptism was held on Sept. 9, 2018, at St. Mary's Church in Ipswich, near Brisbane.
Hayden says that throughout his life he has been searching for the purpose of life. He said, "There's been a gnawing pain in my heart and soul about what is the meaning of life. What's my role in it?"
Having grown up in an abusive home, he feels "indebted" to the Ursuline Sisters who taught him in primary school and had a profound effect on his social-policy opinions.
Hayden has battled health issues for more than four years now and says that through the outpouring of love by prominent people in his life, he admits he has been wrong about the church all along.
One particularly earth-shattering visit to the hospital with Sister Angela Mary Doyle was a huge reason for his turn-around.
This 93-year-old Sister of Mercy, has spent 22 years serving as administrator of Mater hospitals in Brisbane and been a pioneer for proper medical care for the poor. She has grown to be a lifelong inspiration for Hayden.
He said, "I have always felt embraced and loved by her Christian example."
Hayden, his wife, Dallas, and their daughter, Ingrid, all visited Sister Angela Mary in the hospital, at the time she was a patient there, Hayden was touched by it and had a lingering feeling which he simply could not ignore.
"The next morning I woke with the strong sense that I had been in the presence of a holy woman," he said. "So after dwelling on these things I found my way back to the core of those beliefs – the Church."
It was his mother's strong Catholic faith, time spent with the Ursuline Sisters, and love he received from Sister Angela Mary, which contributed to his decision to get baptized. Sister Angela Mary made it a point to attend Hayden's baptism, further showing her love toward him.
The Hon Bill Hayden was baptised.

This story is being told across the country today – former Governor-General Bill Hayden was baptised this month at our St Mary's, Ipswich.

The Catholic Leader broke this story – read it here: linktr.ee/archbne

📸 by Alan Edgecomb, Purple Moon Photography

Posted by Archdiocese of Brisbane on Tuesday, September 18, 2018
His baptism was done by Father Peter Dillon along with Father Stephen Bliss, and by the ceremony, Hayden expressed his newfound devotion to Christ and his church.
What a remarkable way God used simple people to win over an atheist man, these are the last times and God is using anyone who is willing, to touch the lives and change His people totally.