It's been 2 weeks since seven-month-old Theo Bennett underwent cataract surgery in both eyes, now as he wears his new glasses and sees dad for the first time, he can't stop beaming.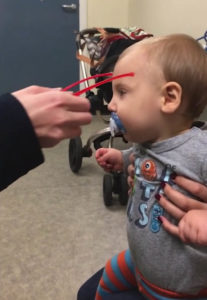 Sitting on his mom's lap, he looked around the room with a new perspective. Theo had been diagnosed with congenital cataracts since his mother, Lois Bennett, spotted a cloudiness in his eyes when he was six months old.
This rare condition affect 4 children per 10,000 in the United Kingdom. Theo had surgery at Leeds General Infirmary in the U.K. and the lenses of his eyes were replaced with artificial ones in October 2018.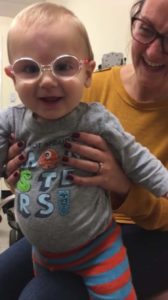 After two weeks he is ready to wear his new corrective glasses. "When he put the glasses on, he looked at me with a big smile and you could see him looking around," dad Joe Bennett, 37, said, "It melts your heart because you think to yourself, 'He can actually see now.' He added, "It was amazing, we took him out that afternoon and it was apparent that he was looking at the world around him like he'd never really done before," Joe added.
It's been a year now and Theo is happily chasing the family cats with his two elder brothers and playing in the park. His doctors are hoping he will only need to use his glasses for reading.