Kindness is the new normal in our post-covid world as we listen to more and more instances of people doing random acts of kindness to people. Recently a young employee from H-E-B paid $137 to clear a family's grocery bill after the customer did not have enough money to pay for her purchases.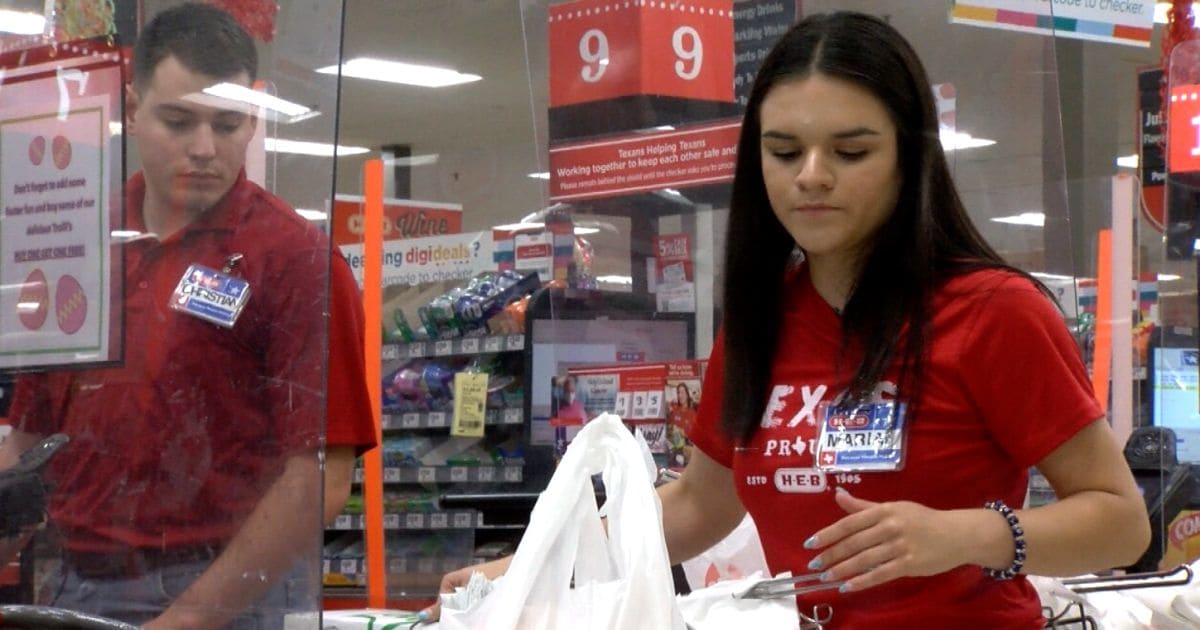 College student, Maria Balboa works as a bagger at H-E-B in Corpus Christi, Texas, and was recently bagging a woman's purchases who had two young boys with her. During checkout time when the woman had to pay for the groceries she bought, the woman found she had only $19 left on her SNAP card which was not enough to cover everything.
Recalling the incident, Maria said, "She was going to put back the groceries instead of a couple of items that she needed for dinner that night. I asked the cashier what the remaining total was and she said it was $137," Maria said. "Immediately I heard a voice inside my head saying, 'pay for the groceries'. I stopped to think for a second but then I heard again, 'Pay for the groceries Maria!'"
Choosing to listen to the voice that was speaking to her and not ignoring it, she offered to pay the bill for the woman who initially refused the offer but reluctantly accepted after Maria kept insisting. "$137 was quite a bit of money for me that day, but still I knew that I would get it back on payday and maybe she wouldn't," Maria said.
Many times we hear a voice telling us to do something good for someone that would cost us money and that makes us become hard-hearted and ignore that nudge. It could be the voice of God that is prompting us to be the hands and feet of God in this world. Let us be selfless and sensitive to others around us just like Maria was.
Now on her next shift, Maria was told to meet the manager and she was scared that she was in trouble because of what she had done. So while at the manager's office she was told that the woman whose bill she had paid, had filled out a survey and mentioned her financial struggles. Apparently she was taking care of her two grandchildren on her own and was doing a low-paying job to keep the children out of foster care.
The woman wrote in the survey, "I was ashamed not having enough money and she insisted to pay for them," she wrote. "Today she made me cry but happy tears. Thank you from the heart for [your] kindness. My grandkids and I have managed to pull through since January it's been very tough but God put this young lady at the bagging area for us. I wish I could have gotten her name."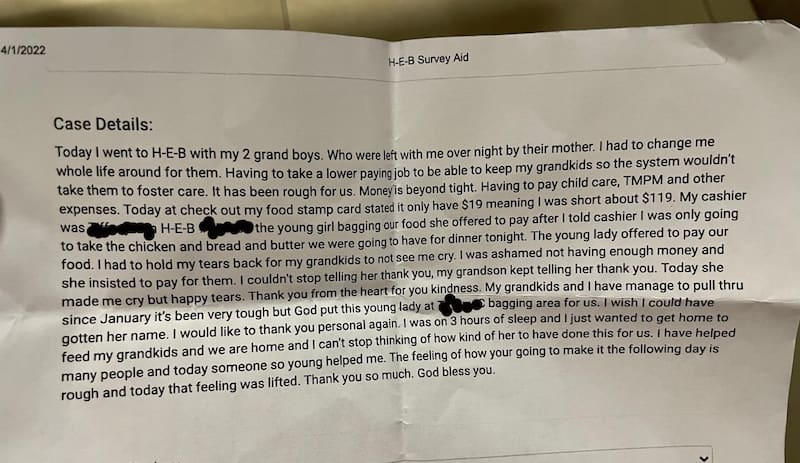 These words tore Maria's heart and it made her feel she had taken the right decision at the right time. Her manager, Mark Moeller, also ended up reimbursing Maria the money that she spent and she received a goody basket with groceries as appreciation. Young Maria never imagined that a random act of kindness would end up this way for her.
She took to Facebook to tell everyone about the incident:
"I was so grateful for their kindness as well as to the lady for writing the survey. Hearing her words made me realize that it's small things like paying for groceries that can help people out in ways we don't even know. With that being said: Always be kind and do a good deed for someone when you can. It can be something as simple as holding the door open for a stranger or complimenting them. Good things done always come back in ways we may not even realize. Always be good to the people around you, because you never know what someone else might have going on. Thank you for reading and be kind!"