A heartwarming video of MaKenzie Thomas singing 'Better Days Are Coming' to encourage a friend is winning the internet.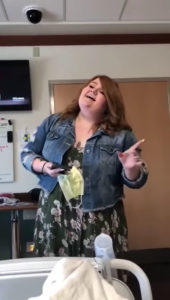 23-year-old MaKenzie is seen encouraging and singing for a friend who couldn't make it to her concert. MaKenzie Thomas was a part of Team Jennifer Hudson when she returned for season 15 of the Voice. She is a very talented gospel singer and wowed the judges and crowds with 'Because You Loved Me' and 'Emotion,' and went all the way to the Top 8. but sadly got eliminated after that.
Sometimes it feels cold
And you feel all alone
But hold on, better days are coming

It can be rough in this world
I know it ain't easy but hang on in there
I know better days are coming
The message in the song has encouraged us to believe that better days are coming, when we believe in the promises of the lord Jesus Christ. Amen.