A professor in Derbyshire, England, Dr. Aaron Edwards, was recently fired from his teaching job at Cliff College, a Christian theological college, for a tweet that allegedly went against the college's social media policy.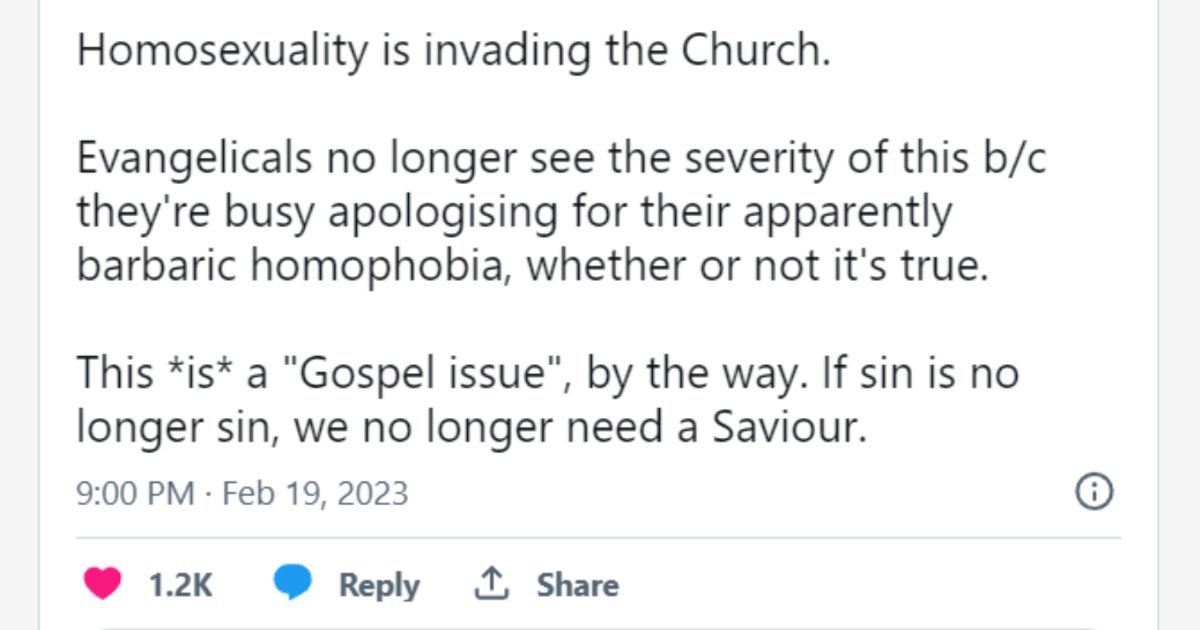 Earlier this year in February, he made a tweet that read, "Homosexuality is invading the Church. Evangelicals no longer see the severity of this because they're busy apologizing for their apparently barbaric homophobia, whether or not it's true. This is a "Gospel issue", by the way. If sin is no longer sin, we no longer need a Saviour."
The tweet received backlash from online critics, and college authorities asked him to take it down. Apparently, the tweet was extremely damaging in its language and could have a significant negative impact on the college's work and business plans.
In a recent interview with CBN News, Edwards opened up about the ongoing issue, pointing out that his intentions have been misconstrued and misinterpreted by the general public as well as the authorities.
Homosexuality is invading the Church.

Evangelicals no longer see the severity of this b/c they're busy apologising for their apparently barbaric homophobia, whether or not it's true.

This *is* a "Gospel issue", by the way. If sin is no longer sin, we no longer need a Saviour.

— Aaron Edwards (@aaron_p_edwards) February 19, 2023
The Christian lecturer stated that he made the tweet in the context of what's going on in the church and the pressure from LGBT lobbying agendas entering the church. He spoke out against many leaders who pretend to read the Bible afresh in light of world events, which he believes is nonsense because it's a way of trying to excuse the fact that leaders have allowed an invasion of worldly ideas into the church and are attempting to redefine what sin and the gospel are.
He clarified that his statements were not about individuals but about the sin of homosexuality, which does not have any positive expression in the Bible. He called out other Christians who would rather look the other way to appease the world by talking about how Jesus loves everyone equally without addressing the issue of sin. In the process of trying to be inclusive, the Church has lost its way due to the invasion of worldly ideology.
"I was taking a stand for God, so some people have criticized me for thinking I'm trying to make myself into a martyr about it by continuing to speak about it. Those people just don't understand what it's like to be in that situation and to have a conviction and to need to express it and to defend it and to want to defend it, and so to accept the consequences for that," Edwards added.
There have been gay Christians for a very long time, including in leadership positions. There is no threat to the Gospel.

— Julian Bond (@julianbond12) February 19, 2023
Despite the attacks and the difficult time brought about by his dismissal following the tweet, Edwards found comfort and joy in the suffering. He recounted how many people have come to support him publicly and privately for standing firmly and speaking out on the issue, which they had not been able to do for so long.
He said, "It's exactly what the New Testament authors speak about; they talk about suffering a lot, and it's something that Western Christians have been protected from perhaps for many years, and I don't think that protection will continue. I think, with that kind of loss of comfort, there'll be wonderful opportunities for faith as well, so I'm excited by that and feel really blessed by God even through the suffering. It may be ongoing because there's fresh hate coming my way now the story has gone into the press, and it's difficult. But even with that, I know that God is with us, and He's got a plan for us, whatever that looks like in the future. I don't know, but He's got us, and that's great."
We continue to pray for Edwards and his family as they go through these challenging times. And may God's name be glorified through and through.
"….If God is for us, who can ever be against us?" Romans 8:31.