The Bible is the saving word of God, but it can also save you physically from death, if you don't believe it then keep scrolling.
A Bolivian police officer who was shot in the chest during the clashes over the removal of Bolivia's now-former president Evo Morales, said a Bible tucked into his left breast pocket saved his life.
"Yes, it was a miracle," the officer who is also a devout Christian said.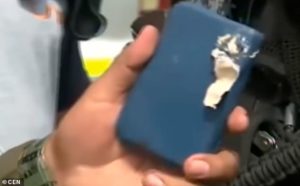 Images of the Bible with the front of the blue Bible having a small hole and an exit hole on the back cover with many pages torn due to the impact of the bullet was shared in newspapers and Facebook. The officer also showed the brass knuckles that he carries in his pocket, which were broken by the bullet.
Oscar Gutierrez, head of the Special Force of the Fight Against Crime of Santa Cruz, said the police officer was part of a contingent of law enforcement who were trying to keep the calm in Yapacani town when he got shot by a projectile thought to be a 9mm round.
Gutierrez said, "He is a young officer whose life was saved miraculously, he was shot by a projectile," Gutierrez declared, adding the patrolman "had a Bible that stopped the projectile."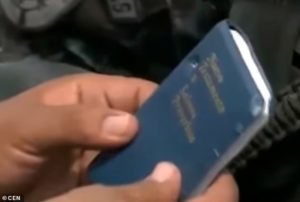 The uninjured officer was taken to a Santa Cruz hospital for tests and is scheduled to get back to work soon.
The violence was a part of nationwide protests after a military coup against President Evo Morales, who had fled to Mexico. His supporters started the protest in the capital city of La Paz after the swearing-in ceremony for interim president Jeanine Anez and her new cabinet. The violent clashes hit Yapacani, about 450 miles from La Paz where police were working to open a main road in the city when the officer was shot.
The young police officer believed in God and in His word and carried the Bible with him all the time, which was able to save and deliver him from a near tragic death. Let us also make it a habit to always keep a copy of the Bible with us and carry it everywhere we go, not only for protection but also to evangelize to others.