Bible verses and grandparents are two enduring sources of wisdom and comfort that have touched lives for generations. Grandparents serve as the spiritual backbone in many families, guiding their grandchildren with love, life lessons, and yes, Scripture.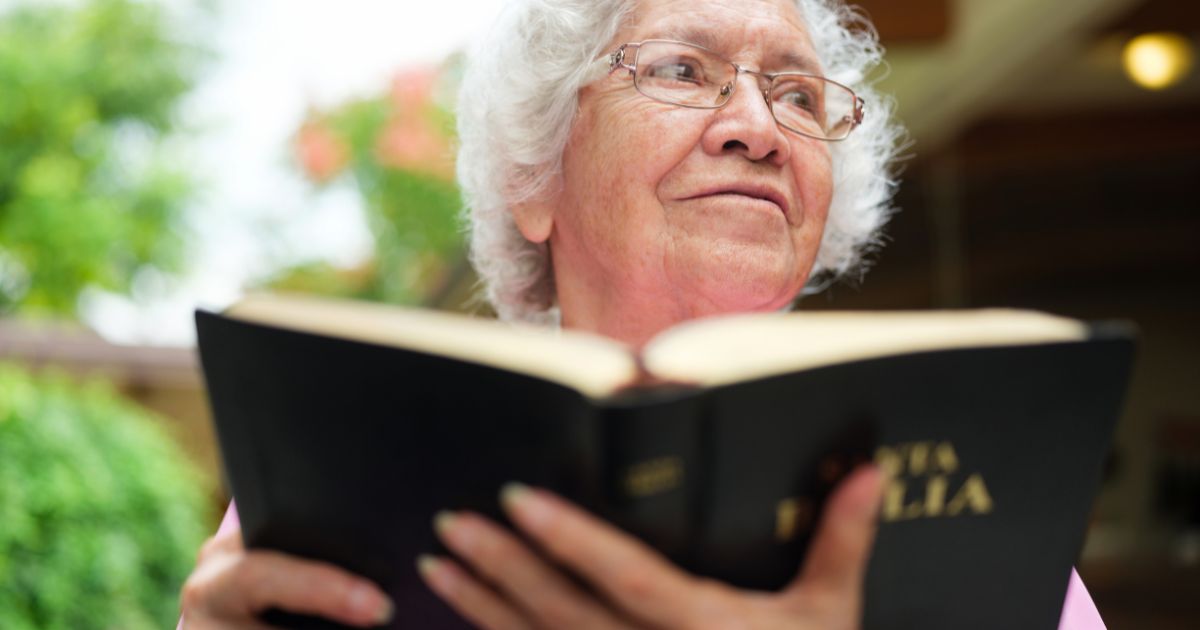 Whether you're a grandparent seeking divine inspiration or a grandchild wanting to honor the special elders in your life, the Bible is a reservoir of timeless truths. The verses we'll explore together not only reflect the unique roles that grandparents play but also inspire faith and love that transcends generations.
Here are 25 Bible verses that speak to the different facets of being a grandparent: love, wisdom, legacy, and spiritual instruction among others. These verses can become your compass, guiding you as you navigate the blessings and challenges of grandparenthood.
Proverbs 17:6
"Children's children are a crown to the aged, and parents are the pride of their children."
Titus 2:2-3
"Older men are to be sober-minded, dignified, self-controlled, sound in faith, in love, and in steadfastness. Older women likewise are to be reverent in behavior, not slanderers or slaves to much wine. They are to teach what is good."
Job 12:12
"Wisdom is with the aged, and understanding in length of days."
Proverbs 16:31
"Gray hair is a crown of glory; it is gained in a righteous life."
Deuteronomy 4:9
"Only take care, and keep your soul diligently, lest you forget the things that your eyes have seen, and lest they depart from your heart all the days of your life. Make them known to your children and your children's children."
Psalm 78:4
"We will not hide them from their children, but tell to the coming generation the glorious deeds of the Lord, and his might, and the wonders that he has done."
Exodus 20:12
"Honor your father and your mother, that your days may be long in the land that the Lord your God is giving you."
Proverbs 1:8-9
"Hear, my son, your father's instruction, and forsake not your mother's teaching, for they are a graceful garland for your head and pendants for your neck."
2 Timothy 1:5
"I am reminded of your sincere faith, a faith that dwelt first in your grandmother Lois and your mother Eunice and now, I am sure, dwells in you as well."
Psalm 71:18
"So even to old age and gray hairs, O God, do not forsake me, until I proclaim your might to another generation, your power to all those to come."
Isaiah 46:4
"Even to your old age I am he, and to gray hairs I will carry you. I have made, and I will bear; I will carry and will save."
Psalm 92:14
"They still bear fruit in old age; they are ever full of sap and green."
2 Corinthians 9:9
"As it is written: 'They have freely scattered their gifts to the poor; their righteousness endures forever.'"
Proverbs 11:25
"A generous person will prosper; whoever refreshes others will be refreshed."
1 Thessalonians 5:18
"Give thanks in all circumstances; for this is the will of God in Christ Jesus for you."
Philippians 4:11
"Not that I am speaking of being in need, for I have learned in whatever situation I am to be content."
John 14:27
"Peace I leave with you; my peace I give to you. Not as the world gives do I give to you. Let not your hearts be troubled, neither let them be afraid."
Philippians 4:7
"And the peace of God, which surpasses all understanding, will guard your hearts and your minds in Christ Jesus."
Romans 15:13
"May the God of hope fill you with all joy and peace in believing, so that by the power of the Holy Spirit you may abound in hope."
Hebrews 11:1
"Now faith is the assurance of things hoped for, the conviction of things not seen."
Proverbs 3:5-6
"Trust in the Lord with all your heart, and do not lean on your own understanding. In all your ways acknowledge him, and he will make straight your paths."
Psalm 119:105
"Your word is a lamp to my feet and a light to my path."
2 Corinthians 12:9
"But he said to me, 'My grace is sufficient for you, for my power is made perfect in weakness.' Therefore I will boast all the more gladly of my weaknesses, so that the power of Christ may rest upon me."
Lamentations 3:22-23
"The steadfast love of the Lord never ceases; his mercies never come to an end; they are new every morning; great is your faithfulness."
Ephesians 4:2-3
"With all humility and gentleness, with patience, bearing with one another in love, eager to maintain the unity of the Spirit in the bond of peace."
The role of a grandparent is both a gift and a responsibility—one that comes with the opportunity to love, guide, and spiritually nourish the younger generation. These verses serve as a reminder and an inspiration for all grandparents who aim to leave a lasting legacy rooted in faith and love. May these scriptural insights encourage you, uplift you, and equip you in your journey of grandparenthood, as you continue to touch lives and make an eternal impact. God's word is your steadfast companion in this wonderful chapter of life. Amen.