A heartwarming video of 30 bikers landing up at a young girl's lemonade stand, after the girl and her mother helped several of them is winning hearts everywhere.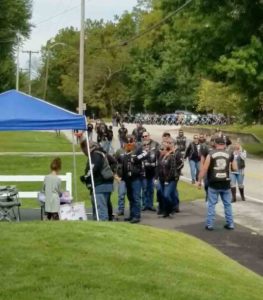 The bikers dressed up in jeans and leather vests in a video gone viral had been in a gruesome accident last year and were helped by the mother and girl.
A Facebook post of the video shared from Dnver, Indiana said, "Best lemonade in the state! Last year my daughter and granddaughter pulled up on a motorcycle accident that involved several of the men and women of this group." The post read, "Ever since then they've been so wonderful to my family. Today they came by for lemonade to surprise my daughter."
In September of last year, Daryn Sturch, a nurse, and her daughter Bryanne, helped several of the motorcyclists from a crew called the Milwaukee Iron. Sturch juped in to help save many lives in the process.
"I stayed with them and did the best I could to triage them and keep them awake and calm," she said, adding all five bikers involved in the crash had "gruesome" and "severe" injuries.
Sturch, 37, received 'thank you' messages from some of the bikers and regularly updated them on the recovery of those were badly injured, they have been in touch with her ever since.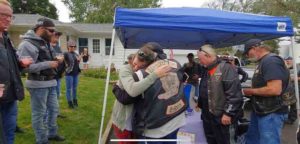 After a year of that accident, Sturch's daughter, Bryanne, 8, decided to set up a lemonade stand to raise money to buy equipment for her horse. Her mom shared about it on Facebook. SO one of the bikers commented on the post asking if there was enough place to park motorcycles there, if cub members were to stop by. But she never expected to see a crew of 30 bikers takeover the stand.
"My daughter could not believe it and was over-the-moon excited," she says. "She thinks they are the nicest people in the world." It also gave them an opportunity for a reunion between Sturch and the motorcyclists, some of whom she had not seen since the accident.
"I didn't realize the bikers who I'd helped would be at the stand, so seeing them again was extremely overwhelming," she says, noting that she cried on seeing a biker called Lumpy, "I remember trying to help him and him telling me 'I'm fine hun, I want you to go check on and take care of the girls.' He was more worried about the girls who were injured than anyone else," Sturch recalls. "I'm so thankful they are doing so well."
Sturch says that she wants her video to convey a message to society, "It is important to me that people understand that good people are all around us," she says, "and that just because someone doesn't look or dress the way you do doesn't mean they don't have the same core values."