The law enforcement agencies in Houston teamed up to honor an 8-year-old boy after hearing his heartbreaking story.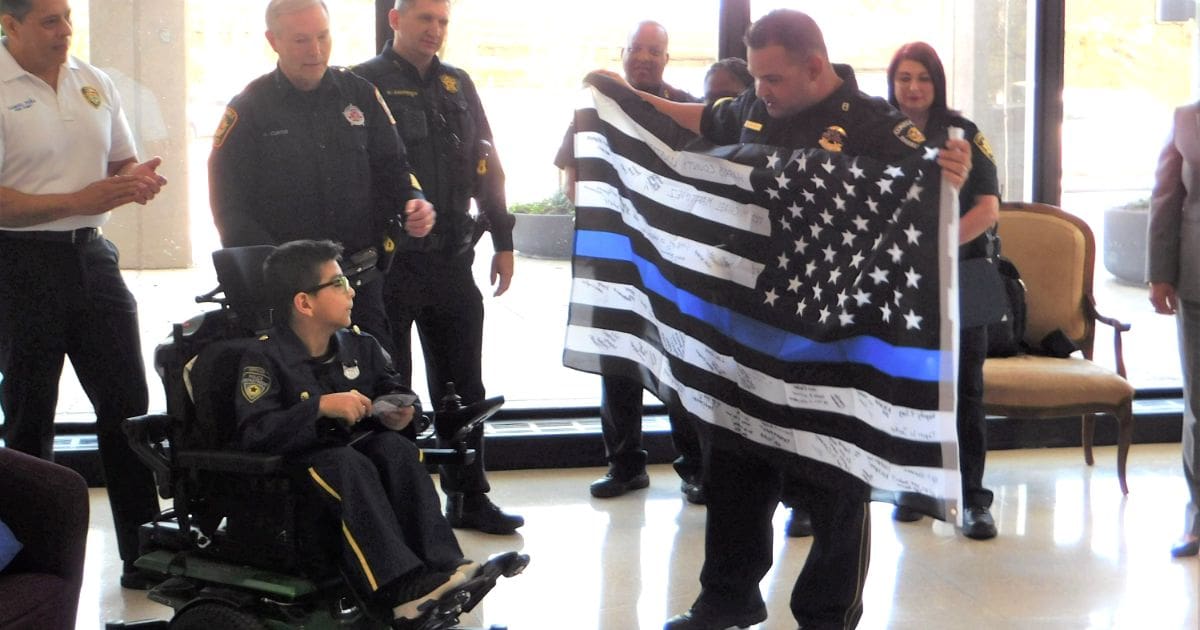 Michael Martinez from Atascocita has cerebral palsy. He depends on a wheelchair for mobility. But the young boy was bullied at school for dressing as a police officer on career day. A group of older students pushed him out of his wheelchair in the hallway. Harris County District Attorney Kim Ogg said, "Michael kept his cool and stayed calm as several students helped him back into his chair."
Instead of stepping back, the brave child boldly stood against the bullies. He wore the police costume to school again the next day. But this time he was not alone. Michael was escorted in a deputy constable's car.
The law enforcement agencies honored Michael with a bunch of badges and gave him gifts during a special ceremony.
Kim Ogg praised the resilient young man and said, "Honorary badges are given to recipients who embody the characteristics required of every peace officer and first responder: courage, strength, kindness, and resilience," she said.
Harris County District Attorney Kim Ogg is joined by 7 Constables Offices and the Houston Fire Chief to present honorary awards/ badges to Michael Martinez for embodying the characteristics needed of a peace officer: courage, resilience and strength. https://t.co/ph6PJk4eut pic.twitter.com/0VnNVbsDd3

— Harris County DA (@HarrisCountyDAO) April 1, 2022
But this wasn't the first time that Michael had inspired with his bravery, last year he saved eight family members during the freeze when he heard the carbon monoxide detector going off and crawled to his parent's room to alert them.
The brave boy saved his entire family from odorless, poisonous carbon monoxide flames that emanated from their stove that could have wiped them all out.
Speaking about that brave act, his grandmother said, "Michael saved eight family members during the freeze. We're very, very blessed to have Michael in our lives," she added.
"Whenever I take him to school, the kids stare at him. He wants to play, and he wants to run like the other kids. We have our moments where we … Michael and I, just cry and just hold each other," Angie Martinez said last year.
But today this brave heart stands tall and is a popular figure in his community with a bright future in store for him.