An 11-year-old boy who was ht by a semi is thanking God for his miraculous survival.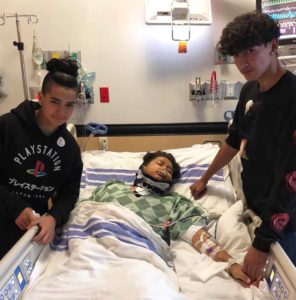 Emilio Corrales was riding his bike along northbound U.S. 83 Business when he fell down and got struck by a semi-truck. The Wichita, Kansas native's life should have been over instantly, but the boy survived miraculously and is doing well after undergoing surgery in the hospital.
"I'm thankful to God because I didn't die," Emilio said, "I thought I was gonna die, when I got hit by a semi-truck."
Emilio was admitted at the Wesley Medical Center after the accident, with his family waiting anxiously. "Out of surgery fractured skull fractured scapula torn acl and shoulder muscles torn up overall doctors say he is going to make full recovery thank u god for not taking my son away from me and giving him the strength to win his battles," Oscar Corrales, Emilio's father, wrote on Facebook.
It's been a week since Emilio had his accident he has come a long way thank you friends family and all the people who don't know us and still sent love prayers kind words ♥️♥️♥️♥️♥️♥️♥️♥️♥️♥️

Posted by Oscar Corrales on Friday, August 30, 2019
"[T]hank u everyone for the prayers God is good it kills me to see my little man like this," the single father wrote.
The boy said, "I've just been hurting and now that I'm getting to go home and I'm not as badly wounded, I just feel good," He added that due to prayers and believing in him, he is thankful for being alive. Emilio said he was happy and ready to go home.
His father was very happy that his young son was coming home. "First I want to thank God for everything he has done in my life but especially for what he has done in this past week for giving my son a Milio the heart of a lion," he wrote in a post.
He also thanked first responders, hospital staff and family who helped out after the incident. "[T]here's so many more people I wanna think I can't name them all everybody that prayed for me and my son my family my kids," he continued. "God is good God bless you all."
Oscar has set up a GoFundMe for Emilio in order to receive some assistance with the medical bills because of his son's accident.
This is clearly the hand of God which saved the life of young Emilio after getting hit by a semi-truck, may he use this second chance at life to serve God all the days of his life.