Certain things are best expressed through words. It's not every day that a police officer receives a personalized thank you and appreciation note from one of the citizens they have been tirelessly protecting.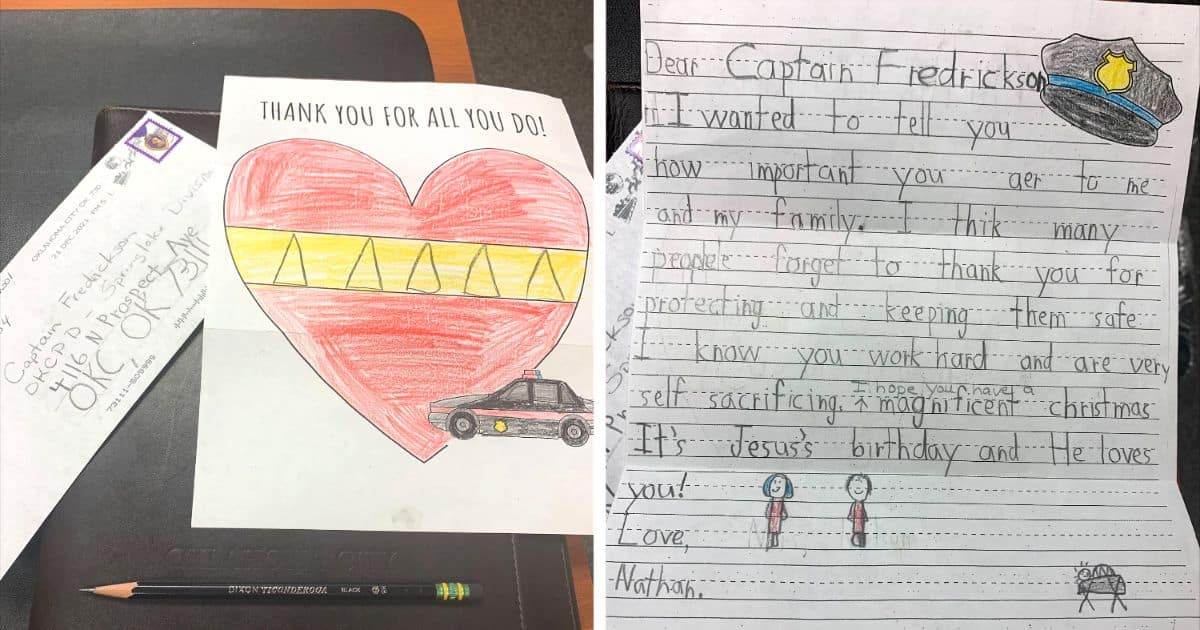 Captain Fredrickson of the Oklahoma City Police Department received a short letter from Nathan. The letter said,
"I wanted to tell you how important you are to me and my family. I think many people forget to thank you for protecting and keeping them safe. I know you work hard and are very self-sacrificing. I hope you have a magnificent Christmas. It's Jesus' birthday, and He loves you."
The young boy also drew a big, red heart with a police car at the bottom to show his appreciation to the police force. The thankful captain replied and posted it on their department's Facebook page. He wrote:
Nathan,

Thank you for the encouraging words and uplifting artwork. Your gratitude and respect is how the men and women of the Oklahoma City Police Department know they are making a difference in people's lives. Letters like yours show our officers that the community they are protecting supports them.

Our core values are Integrity, Compassion, Accountability, Respect, and Equity. Each and every officer I work with upholds these values while performing their daily duties. We do it all for you.

I hope you also had a magnificent Christmas. Check out our recruiting page. Maybe in a few years, you can put in an application. Fair warning: it takes a great deal of strength and determination to join the best police force in America.
Many were amazed by this young boy's great character, and his note became viral on Social media already. Guess it would not hurt to appreciate and thank the people who have been helping us, day in and day out.
Great job to the parents/guardians of Nathan, who raised him to be a grateful and appreciative young man. One cannot underestimate the impact of positive words on someone's life. 
"Gracious words are like a honeycomb, sweetness to the soul and health to the body." Proverbs 16:24