This video is surely going to brighten your day. A video gone viral shows an Alabama man surprising his dad with a new truck, and the dad's reaction to it, is just priceless.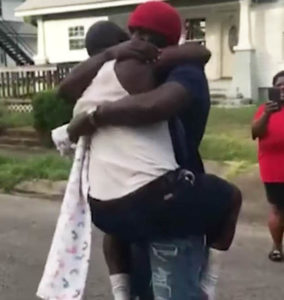 Diantae Thomas had worked hard to buy his dad a truck, and he was so excited to show him his surprise gift that he did not allow him to wear his shoes. He led his blindfolded dad wearing only his socks, outside and when he took off the blindfolds, the dad excitedly jumps off the ground.
He thinks at first that his son had bought the truck- a Ford F-150 for himself, but when he got to know that it was for him, he leaps on to his son and gives him a big hug. "It was a major gift from me to him. I was driving around for a couple of hours looking for a truck and saving up a bit just about every check from playing indoor football up in Bismark, North Dakota," Diantae said.
"I knew he was going to cry, but I didn't know he was going to go all out, which it was — it was crazy and my mom said now, until this day, he'll be crying sometimes. Like, he don't believe it." 25-year-old, Diantae who lives in Missouri, said he made $200 for every football game he plays, and saved up almost all those earnings to buy his father a truck after his had broken down two years ago.
It seems nobody in the family knew that Diantae was going to buy his dad a truck. Lester works as a landscaper and handyman, and is dependent on his wife Darlene to take him back and forth from work. Diantae wanted to show him his appreciation for all he had done for the family. "My dad means a lot. He framed me to how I am today, showed me the odds and ends, showing me the ins and outs. Showing me everything to become a man. You only have one dad, you only have one mom. So I try my best to keep them happy, being the baby out of nine," he said.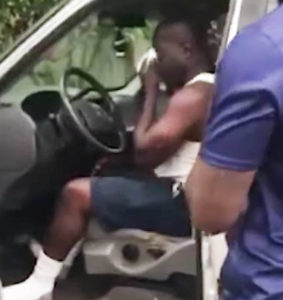 Diantae says that he has never given a gift to his dad before, and this was the first time he gave him a gift. Now this good son is working on giving a gift to his mother. He says, "I've been working hard to find a lawyer for my brother. I haven't seen him in a while, he's in prison, so I'm trying to find a lawyer for her. And then if I can get him out, that would be special for her. My mom, she's getting older. I just want her to see him. If not, then I want to get her a house," Diantae said.
What a great son, he is giving us all parent goals with his generosity and heart of gold, may all parents have a son like him.