When this couple adopted their first child, they never knew that they would end up with 38 kids one day.
Jeane and Paul Briggs are high school sweethearts have 6 biological children of their own and 32 adopted. This West Virginia still has 25 of their 38 kids living with them at home.
Before the first adoption, Jeane already had 3 babies of her own, but while on a trip to Mexico, she met 2-year-old blind orphan Abraham who "tugged at her heart". She says after God led them to adopt Abraham, they never looked back. She said that they never thought they would have as many children, but whenever they would hear of a child, the would pray about it and bring him home.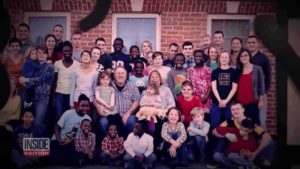 God had been preparing Jeane to be a mom-to-38 children much earlier than she realized. God put in her a deep passion for caring for other people and put her in the nursing field as a career. The skills she learned as a nurse came handy to care for the children, of which many are special needs. "We've had heart surgeries, significant orthopedic surgeries where I did all the PT because there was no other resource here," Jeane explained.
Jeane's vast medical knowledge made adoption agencies take her advice on special cases, Jeane knows that finding adoptive parents to take on special medical needs children was a real challenge, so that's where this couple stepped in. "For many of our children, we've given them the opportunity to live," Jeane said. "They would have died."
"If I was in Russia, I probably would have died because I have had 12 families that rejected me because of my polio," 17-year-old Mya said. "I know God brought them into my life for a reason and they have helped me this far. They are amazing people."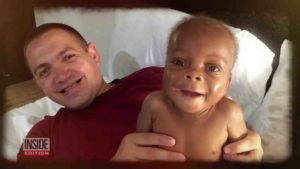 29-year-old Joseph from Ukraine, was adopted at 15 by them, he was abandoned by his own biological family because he was born with a cleft lip. "When you have a family, it's different. You know you have somebody who loves you, cares for you, makes sure you are safe, you're not hungry," he said. "In the orphanage, it was opposite. You were on your own a lot of times."
Jeane and Paul Briggs' biological children were also accepting of their expanding family, "I had always wanted more younger siblings, so I always enjoyed it," daughter Mary Kate said. She lives 9 houses down the street from her parents, and has 11 kids of her own, 7 biological and 4 adopted. They visit Brigg's home every day to help out in the home and homeschool lessons.
The workload at the Briggs family is equally divided, with Jeane staying home to take care of the children's schooling and medical needs, while Paul works in IT. His company has generously supported the family with their financial support of $10,000 for each adoption. The Briggs have taken advantage of the adoption tax credit each year but apart from that they don't receive any government assistance. They depend on God for all their requirements in taking care of the children's needs.
They say that the 38 kids are all part of God's plan and that's why they don't plan on stopping anytime soon. "We answer to what we believe our call upon our lives is," Jeane explained. "We've carefully considered and prayed about each child in our family even our biological children. It ultimately is our choice."
The Briggs have set an example for all of us to follow, their selflessness and kindness towards the unwanted children really make them the hands and feet of Jesus in this world.
Watch the Briggs family's inspiring story below.