With all the gloomy news around the country, this heartwarming video of a toddler totally in love with his newborn sister is melting our hearts.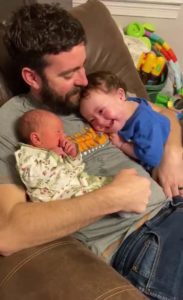 A family in Richland Township, Arkansas shared a video of the moment when they brought home their seventh child- a newborn daughter and were not sure how their 1-year-old son would react on seeing her.
Ashlyn and Logan Williams had a new baby girl, Collyns, and were worried about how their baby boy would react to seeing her. Turns out they don't need to worry because Brooks was over the moon to see her.
The little boy has Down syndrome, and so his parents were concerned about his reaction on seeing her, but the moment Collyns was placed on her father's chest beside Brooks, he was completely awestruck with her.
Just look at his adorable expressions as he looks at his baby sister, he doesn't want to let her go one moment out of his sight. Even when mom takes Collyns into her arms, Brooks immediately bursts into tears.
"You want her back? OK, OK," Ashlyn says off-camera. As she sets Collyns back down, Brooks stops crying and proceeds to gaze at his sister with such love that moves every viewer to tears.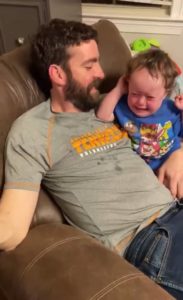 "I can just tell they are going to be best friends," his mom said later. "It was really sweet, he already loves her so much. He is such a loving young boy, and we were just so tickled by his reaction."