A heart wrenching video of a nine-year-old bullied boy who tried taking his life on multiple occasions has sparked an internet debate on bullying and now the boy has received hundreds of messages of support and some amazing gifts from around the world.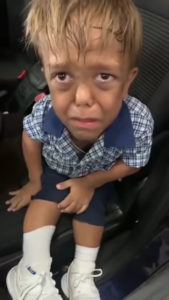 Brisbane resident, Yarraka Bayles, took a video of her son Quaden crying in the car after picking him up from school. The schoolboy, has achondroplasia a common type of dwarfism and told his mother: 'Give me a rope, I want to kill myself.'
The now viral video seen by thousands on social media has sparked an outpouring of support and encouragement from Australian sports stars and strangers from around the world including the United States and Europe.
An Instagram page has been set up for Quaden where people have pledged friendship for the young boy and support for his family. His family has put out a statement thanking everyone for their uplifting messages.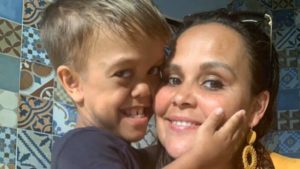 The message read, "'Quaden Bayles' family would like to take this time firstly to thank everyone for the overwhelming show of love and support from so many people from all around the world."
"Due to the large volume of messages, we are unable to respond to everyone at this time as we need time to process as a family and would like to ask that the media respect the family's wishes".
They also urged the public to take a stand against bullying, saying, "Again thank you everyone, Quaden's feeling the love and now he needs a good rest. We are meeting with the appropriate people in power to make changes and make a stand against bullying."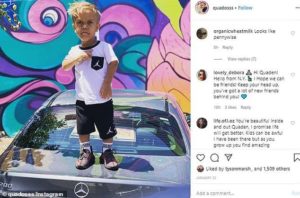 Quaden has been offered the chance to lead the Indigenous All Stars NRL team onto Cbus Stadium on the Gold Coast, where they will play the Maori All Stars on Saturday night. He was snapped with Indigenous All Stars player Latrell Mitchell, who donned a South Sydney Rabbitohs jersey after signing with the club for the 2020 season.
Mitchell said: "Hey Quadey… Just wanted to wish you all the best, brother, we know you're going through a hard time right now but the boys are here. 'We've got your back, we're here to support you, bud. We just want to make sure you're doing alright."
He added, "We want you around, we want you to lead us down on the weekend. It's going to mean more to us than it will to you, bud. Just make sure you're looking after yourself and hopefully we get to see you in the next couple of days."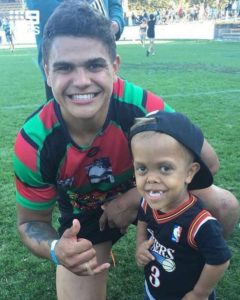 Some strangers wrote, "Sending hugs and strengths. People need to control their kids, he doesn't deserve to feel this way about going to school. He deserves a safe place. So sorry," one person wrote.
"It is our responsibility as parents in raising our children to be kind, respectful and compassionate to one another regardless of appearance, gender, religion, race and everything else that makes us different," added another.
Quaden's messages of support have come from places as far as Texas in the US, "I want you to know there are many people here in Texas supporting you and Quaden," one person said.
Another one in Scotland said, "Just watched your message, so sad watching what you're going through, sending my love from Scotland," added another.
A person in London said, "Hey Quaden I just want you to know you are amazing… Thinking of you and sending loads of love your way from London."
"Sweet sweet boy. You are beautiful, you are worthy, you are wonderfully made, you are loved. You have friends in California."
Ms Bayles said she shared the video on Facebook to raise awareness about the impact of bullying. She said she normally keeps distressing moments like these private but felt she had been left with no choice but to go public. "We try to be as strong as positive as possible and only share the highlights… but this is how bullying affects a nine-year-old kid," she said in the video.
At the start of the video, Ms Bayles said: "I just picked my son up from school, witnessed a bullying episode, rang the principal and I want people to know this is the effect bullying has. This is what bullying does."
"So can you please educate your children, your families, your friends because all it takes is one more instance… and you wonder why kids are killing themselves."
"This is the impact bullying has on a nine-year-old kid who just wants to go to school, get an education and have fun but every single freaking day something happens."
"Another episode another bullying, another taunt, another name-calling."
As her son sobbed, she asked for help from anyone viewing the footage. "'So is there any advice or support or anything that other parents have done?"
"I've got some good advice but I need more, I want people to know how much it is hurting us as a family," she said as her voice quivered.She said her son was called a 'midget' by his classmates.
The mother said she took the video after Quaden's classmate patted him on the head and continued to refer to his height. "She was patting him on the head like a little puppy. My daughter and I looked at each other and we made signals to him to ask if you are right, and he was like "no" and he was looking at me horrified, like 'don't make a scene, Mum'."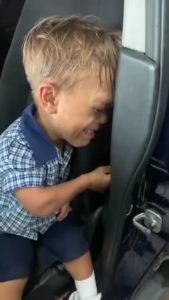 The mother who is an Aboriginal activist said, Quaden was very uncomfortable but he was so good at trying to shrug things off, he didn't want people to know how much it's affecting him. He is so strong and confident but it's times like these when you just see him crumble, she said.
Ms Bayles said she felt heartbroken to see Quaden and she felt 'helpless'. She then took Quaden to the car where he was 'hysterical'. Although there has been an outpouring of support, Bayles has been criticized for sharing the confronting footage.
Yarraka is understandably very upset as her hysterical 9-year-old son talks about how he wants to kill himself in the video. And because she uses some colorful language, we're unable to share the video here.
She says, "I have copped a lot of backlash for it, I thought twice about deleting it … but I wanted people to see the effect bullying is having on my child. If I don't stand up and speak out for him, who will,' she said.
She said that Quaden had first tried to kill himself three years ago when he was just six. She was shocked to think that a boy of six would try to kill himself. "I've explained to him that once you go, there's no coming back, you're gone forever, but he still kept trying,"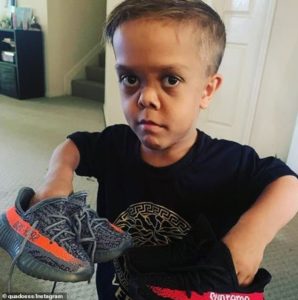 The mother said, she was proud that she had spoken out openly asking for help. We stand with Ms Bayles and Quaden against bullying and we believe that this evil can be banished completely from our society only when parents will teach their children to do the right thing and school authorities set up strict rules against it.
Thousands of people including celebrities responded to the shocking video of Quaden Bayles. They showed their support with encouraging comments, telling him how precious he is.
Hugh Jackman took to twitter to send Quaden a supportive message.
"You are stronger than you know," he said. "And no matter what, you've got a friend in me."
Hugh Jackman also responded to the people making Quaden a victim of bullying.
"Bullying is not okay. Period. Life is hard enough," he said. "Let's just remember every person in front of us is facing the same kind of battle. So let's just be kind."
Quaden – you've got a friend in me. #BeKind @LokelaniHiga https://t.co/8dr3j2z8Sy pic.twitter.com/jyqtZYC953

— Hugh Jackman (@RealHughJackman) February 20, 2020
Actor Jeffrey Dean Morgan also commented on Quaden's video.
"What I want you to know is that you have friends, me included. I am your buddy. You haven't met me yet, but we'll see if we can change that. Maybe your mom can DM me," he said. "You have a bunch of friends out here, out in the world that you haven't met yet. We're here, we got your back. You need to know that. It'll get better."
— Jeffrey Dean Morgan (@JDMorgan) February 20, 2020
Watch: 9-Year-Old Quaden Bayles' Powerful Message Against Bullying