This is a love story so rare and beautiful, it has touched thousands of hearts around the country and the world.
Kris Scharoun-DeForge and Paul were one of the first couples with Down syndrome to get married. Now Kris is honoring the memory of her late husband by telling their story in a never before way.
Kris Scharoun, 58, and Paul DeForge, 54, first met at a dance thirty years ago, and fell in love with each other, soon their marriage was planned after they really wanted to get married after completing five years of engagement, said Kris's sister, Susan Scharoun.
Scharoun has always been a firm supporter of them, and said that although they faced a lot of resistance for their decision to get married, they eventually did get married in the presence of 150 guests at the Le Moyne Manor hotel in New York. "Their wedding was a wonderful affair," Scharoun said.
The much-in-love couple spent a life of togetherness where Kris would cook for Paul and they would go bowling and attend dances together. The most remarkable quality of their union has been that they have stuck through thick and thin.
The Syracuse, New York couple renewed their vows on Aug. 18, 2018, and Scharoun summed up the couple's happy marriage at the vow-renewal ceremony. "They have an unconditional love," she said. "They totally complement each other."
Sadly the couple had their individual health issues with Paul having dementia and Kris, type 1 diabetes, they had to be treated separately which left Kris saddened.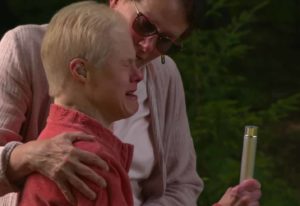 It was all the more devastating for Kris when Paul passed away recently, but the couple is proof that people with down syndrome are also capable of loving intensely as much as normal people do, and can lead a happy married life as well.
Watch the heartwarming love story of Kris Scharoun and Paul DeForge.