An elite private school and California's Soledad State Prison, are unusual partners in a program that aims to bring out the best in both.
The Soledad prison has the largest number of men sentenced to life behind bars, while Palma School is a well-known prep school for boys in Salinas, California.
They connected to form a book club for inmates and high school students to bring both the groups together to develop a greater understanding among them.
But now it's grown to be something more than just a hub of knowledge and empathy, recently when a Palma student could not pay the $1,200 monthly tuition due to a medical emergency with his parents, the inmates came up with a plan.
"I didn't believe it at first," said English and Theology teacher Jim Michelleti, who created the reading program. "They said, 'We value you guys coming in. We'd like to do something for your school … can you find us a student on campus who needs some money to attend Palma?"
The inmates, or "brothers in blue," as they are called, helped raise an amount of more than $30,000 from inside the prison for student Sy Green. The scholarship helped him graduate and attend college at The Academy of Art University in San Francisco.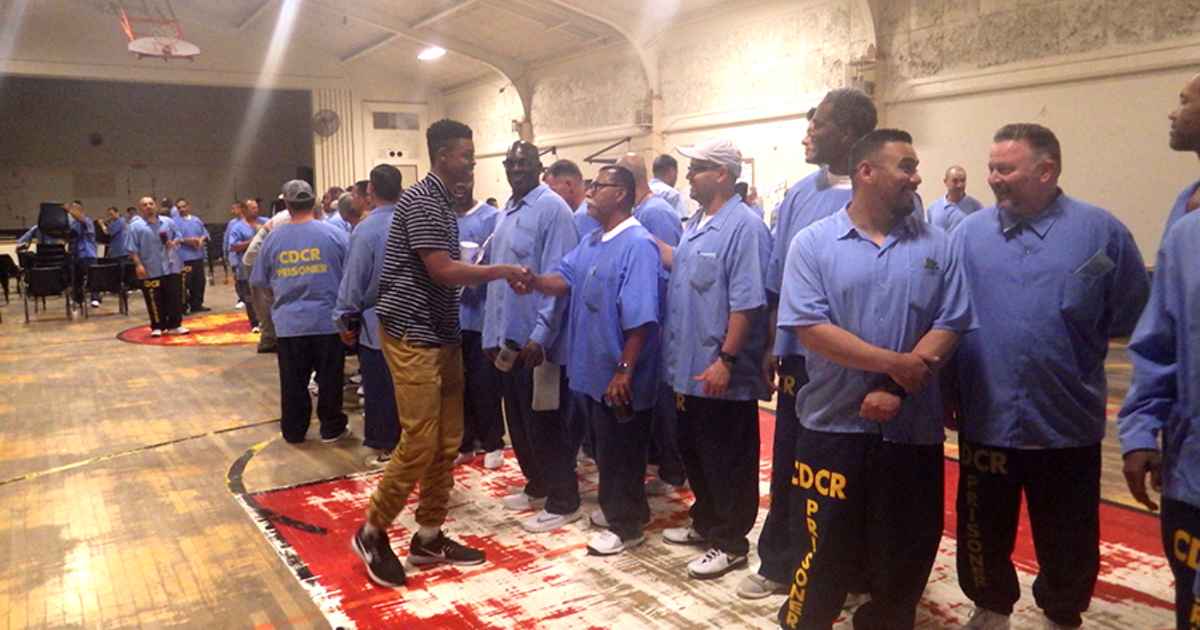 "Regardless of the poor choices that people make, most people want to take part in something good," said Jason Bryant, a former inmate who was instrumental in launching the scholarship. "Guys were eager to do it."
Bryant has served 20 years for armed robberies where a victim got fatally shot by an accomplice. But he's put all that behind him in Soledad State Prison and is truly making an effort to change by becoming a graduate and earning two masters and running leadership training programs for inmates.
Bryant says that he's truly aware of the devastation he caused to a family–several families because of a crime he committed in 1999. He said, "I keep that close to my heart, and I would hope that people can identify the power of forgiveness and the probability of restoration when people put belief in each other."
His sentence has been commuted in March all because of the good work he has done in prison and now works as Director for Restorative Work at Creating Restorative Opportunities and Programs (CROP). Recently, Bryant had reconnected with Ted Gray, one of his crime partners who gave him the idea to start the scholarship and pay it forward.
Many inmates decided to jump in and contribute towards the scholarship which can be a tough task considering the minimum wage in prison is as low as 8 cents an hour. Some of them even sold their possessions to contribute towards the target of $30,000.
Reggie, one of the inmates donated his entire monthly paycheck of $100 saying, I get paid to do what I do, so, why not pay it forward and give it to someone else for a change?"
Sy Green was the perfect candidate because his parents wanted him to have a top-quality education and be away from a public school that had problems with gangs, drugs, and fighting.
But sadly, a few months later, his dad, Frank Green, needed heart surgery and could not go to work which meant that they would not be able to pay Sy Green's tuition.
The news that they would be awarded $30,000 from the inmates came as a complete surprise for them. "It brought me to tears," Frank Green said. "At that particular time, it was truly a blessing. It was unheard of."
Sy and his family began regular visits to the prison and also took part in the Palma reading group. They have built up such a good relationship with the inmates that 4 former inmates attended his high school graduation. Sy Green says he is inspired daily to work hard knowing that the inmates have made sacrifices to pay for his education.
He says he will continue visiting the prison on college breaks where he now plays basketball and studies sports broadcasting. "That's only the right thing to do. Beyond the scholarship, the knowledge that they pour into you, that's, that's the best thing," Sy said. "They definitely take my future seriously and they genuinely do care about me as a person."
Bryant praises the Green Family for their involvement with the prison inmates and says the decision to fund Sy Green's education was the right one. "They would bring him into the prison to receive mentorship, to participate in groups with us, to share his goals and visions, and to really have accountability conversations with men in blue — men who had made terrible choices," Bryant said.
The positive impact that the initiative has had on the inmates was also noted by Craig Koenig, the warden of the Correctional Training Facility. He said that in 24 years with the California prison system, he has witnessed a positive shift in policy, which is moving towards a model of rehabilitation of the inmates.
"(It's) what needs to happen. Our job is to help these men reintegrate back into society," Koenig said. "As these men are leaving, a far larger percentage of them are becoming productive members of society than what we had before. So, why wouldn't we do it? We're trying to transform men's lives."
Meanwhile, the Palma School reading program has continued over Zoom, and now students from other schools are able to take part. The inmates are also planning to fund a scholarship program for another student with the help of inmates and CROP, and want to keep paying it forward.
"I don't feel like myself or my team or the guys who contributed to this incredible gift for Sy are special. We're just people who want to do good things," said Bryant. "If more people just decided to do good things, this world would be a better palace."