An amazing act of kindness by three teenage boys, who pushed a woman's car when she couldn't afford a tow, is melting the hearts of the social media users.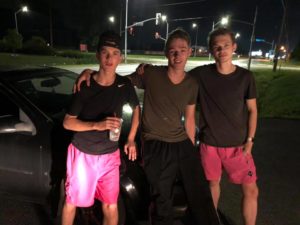 It was after midnight when Aeron McQuillin, Bailey Campbell, and Billy Tarbett were en route to Tim Horton's coffee shop after a swim when they saw steam coming out from a car on Highway 20 in Fonthill, Ontario.
The boys were car enthusiasts and immediately started checking under the hood, they told the driver that the car needed a new engine and told her not to start the motor, the lady looked upset and told them that she couldn't afford a car tow. So then Billy asked if they could push the car to the woman's home in Welland.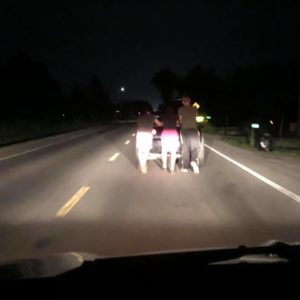 The 15-year-old said, "We had nothing better to do—but even if we did I would like to think we would have helped her anyway," he said, the boys pushed the Chevy Cobalt up a hill, for more than 2 hours on the dark Merritville Highway, laughing, joking, and enjoying their 'workout'. "We were helping her, but also she was helping us," Tarbett said.
Niagara Falls resident, Dan Morrison, also decided to drive after the trio turning on his car flashers to keep them safe, they completed their mission of over 4 miles (7 km) at 4 am in the morning. "We were at the right place at the right time, and this is one of those stories that we can look back on in 10 years and say it was one of those crazy things we did, but it was all worth it," said 18-year-old Aeron McQuillin.
Dan wrote about it on social media and shared a photo of the superheros as well, soon, the young boys phones started receiving numerous messages from strangers and even got offered a free meal or Tim Horton's gift card, but they took none of it. "We really appreciate it, but we didn't do this to get free handouts," said McQuillin, 18, he added, "If I was broken down on the side of the road, I would love for someone to stop and help out."
For father-of-two Morrison, it was a great reminder that "There's good kids out there" in a seemingly hopeless world, we agree with Dan Morrison on that, this story gives us so much of hope for the young generation and we hope that they inspire many teens in the world to be as kind and compassionate as they are.