This fan came to see her favorite hockey team play and ended up saving the life of an NHL team's staff.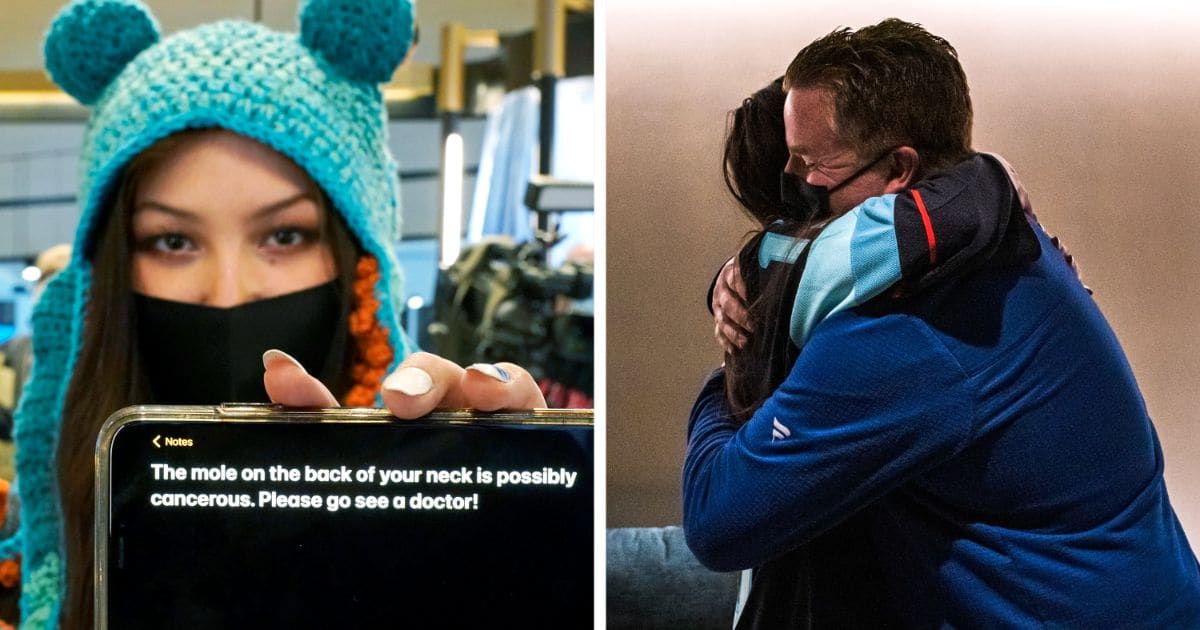 Nadia Popovici, 22, an avid fan of the Seattle Kraken, was sitting at the opposing team's back, the Vancouver Canuck. She was excited to watch Kraken's first home game in Seattle, Washington, against the Canucks. However, she noticed something else. She noticed Red Hamilton's suspicious mole at the back of his neck. Red works as the Assistant Equipment Manager of the Vancouver Canuck.
She caught sight of the mole when he was moving a piece of equipment. This concerned fan knocked on the plexiglass and signaled Red to look at her phone. She wrote, "The mole on the back of your head is possibly cancerous. Please go see a doctor."
"I felt bad at the moment because I'm walking off the bench, and she put her phone up to the glass, and on the phone, it said the mole on the back of your neck is cancer. And it threw me off," he recalled.
Nadia had done a lot of volunteer work in hospitals and helped in an Oncology ward. "I saw his, and I was like, wow, that is a picture-perfect example of what a melanoma looks like," she described.
"How she saw it boggles my mind," Red said. "It wasn't very big. I wear a jacket. I wear a radio on the back of my jacket that hooks on so, the cords are there."
But God has orchestrated for Nadia to come at the right time and place. "He's facing away from me, so I could take a look at the back of his neck…His mole caught my eye because it was fairly large, and…I took a closer look…and I am going to medical school next year and…I've had the opportunity to be educated in some of this more medical stuff," she explained. "It can't hurt just to say something," she added.
Red had his mole checked a few days later, and the doctor found out that it was indeed cancerous. It was a malignant Melanoma. The doctor immediately removed it, saving his life. "It was only on the outer layer of my skin," he said. "It hadn't penetrated to the second layer of my skin, and that's because we caught it so early."
"She [Nadia] extended my life. I've got a wonderful family. I've got a wonderful daughter, and…she saved my life," Red said in an interview with CBC News. "She didn't take me out of a burning car, like the big stories, but she took me out of a slow fire." The doctor said, "ignore that for 4-5 years, I wouldn't be here."
The two finally met, and Red had the chance to thank her personally. But Nadia was unaware that she was in for a big surprise! She was in a Seattle game in Vancouver at that time. Then, she was shocked to hear the announcer reveal what she had done during the game.
On top of that, she also received a scholarship grant worth $10,000 for her medical school from the Seattle Kraken and Vancouver Canuck teams.
It was Nadia's concern for Red that saved his life. It will not hurt to go out of our way to express love and concern to anyone who needs it, especially now. Let's be God's tangible expression of His love to many.
"This is my commandment: Love each other just as I have loved you." John 15:12