An impromptu worship session by a 130-person choir on a flight to Hawaii is putting smiles on the faces of people all over.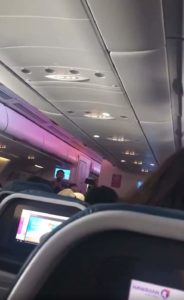 The choir sang the powerful words to Chain Breaker by Zach Williams which is all about God's unlimited power.
If you've got pain
He's a pain taker
If you feel lost
He's a way maker
The clip was recorded by one of the people on board the flight and was shared online on social media. "My university's 130-person choir was on our way to O'ahu on tour when one of the flight attendants asked us to sing. Enjoy!" writes the choir member on the video that they posted on Tik Tok.
If you need freedom or saving
He's a prison-shaking Savior
If you've got chains
He's a chain breaker
Zach Williams who wrote the words Chain Breaker says, "It speaks to believers as much as it does to non-believers because we all get to places in our lives where we get lukewarm, and we just kind of forget what God's done in our life," Williams explains. "The song is very much the truths of who Jesus is."
Zach was doing prison ministry with his church when he wrote the words of the song. He gave the name 'Chain Breaker' because he thought it was a great title for the song. "What an awesome thing to say about what God has been doing in my life and what he can do in other people's lives," he shares.
We are blessed to listen to the gospel choir sing this powerful song on board the flight. May God continue to use these gifted singers for the glory of His name.
Watch: 130-Person Choir Performs 'Chain Breaker' During Flight