Chick-fil-A has got a reputation for displaying their Christian values and having a Christ-like attitude towards their customers.
A video shared by a Latoya Liles shows an employee from North Carolina cheerfully taking a customer's drive-thru order.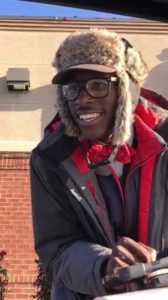 Latoya Liles shared the clip on Facebook of her favorite Chick-fil-A employee, Jeremiah Murrill and says, "I wanted the world to see that there are good people out there," Liles, 35, said. "It's a tough time that we're in right now."
In the now viral video, Murrill, 20, can be heard telling Liles and her daughter, that their order was an "amazing order" and added that he too, prefers his sandwich without tomato.
When Liles hands over her credit card, Murrill tells her, "You're one swipe away from an awesome lunch meal." He then adds that there were "two more things" he needed from them. "You know what that is? " Murrill asks. "It's a fist bump each. You guys are awesome."
Liles says that Murrill wasn't talking to the camera, but that he is always upbeat. "Hundreds of people have commented that they have had the same exact experience with Jeremiah," Liles said. "He's left his mark on so many." She added that Murrill remembers names and "has a spirit that brightens everyone's day."
Murrill, serves at the Oleander location in Wilmington, North Carolina with his brother and three sisters, and one day hopes to have a local franchise. He also helps train new team members on how to serve in the drive-thru.
"I'm so humbled by the attention this video is receiving," Murrill said in an email statement. "I just want to help people in any way I can, so seeing someone's day transformed by a little kindness is amazing."
Murrill continues to garner praise on Facebook, with one woman writing, "He deserves to go viral….Every time I see him, he's always so upbeat & friendly!!!!!! I'm glad somebody captured this on camera because this is his everyday customer service!!!!!"