Winn Parish sheriff is sharing his testimony about how God healed him from Covid during the heydays of the pandemic in 2020, and that he's keeping his promise he made to the Lord by sharing the gospel everywhere.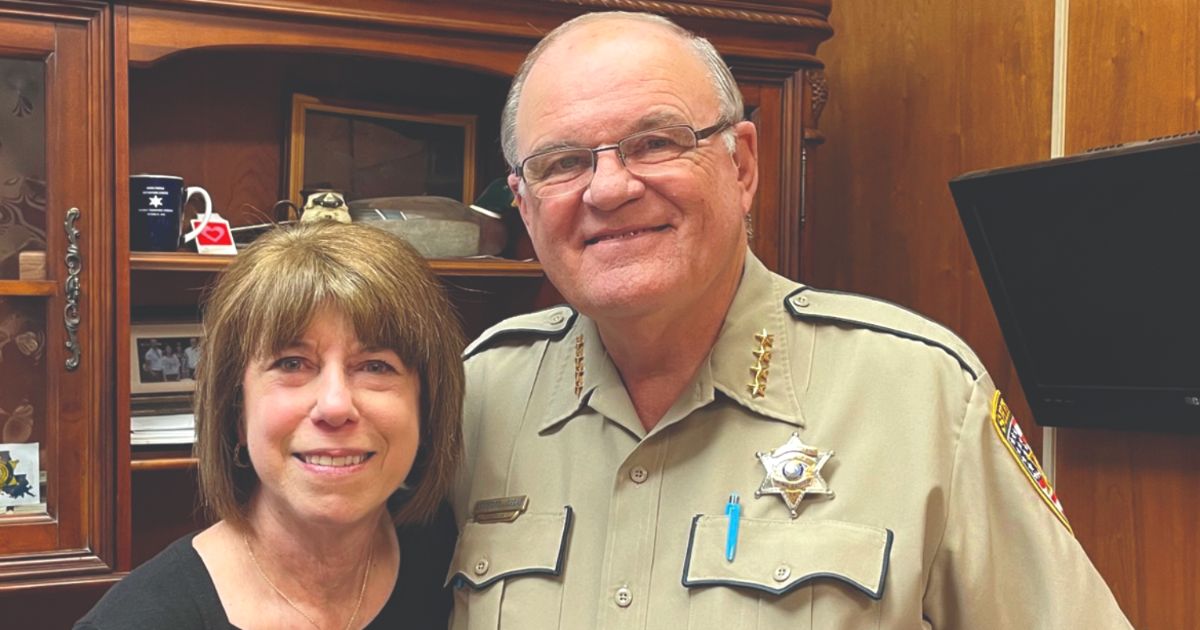 Cranford Jordan is from Winnfield in Louisiana and was among the millions who contracted covid-19 in America. He experienced symptoms that left him with no memory of where he was, and what the date was while spending 5 days on a ventilator.
But he knows that his case was going to be different even though he was told by the experts that "if you are over 65, overweight, have high blood pressure and are a diabetic, and you get the virus, you are not going to make it," said Jordan.
Today he is alive and thriving and says, "Well, here I am. I have all four of them and I'm still here. I'm part of the 13 percent that gets off the vent." He says the 2 reasons he's alive today are because of God and the medical and nursing staff at Rapides Regional Medical Center.
"I'm here today because one, my good Lord," says Jordan. "Prayers went up for me. And two, God answered the prayers through the nurses and medical staff at Rapides Regional Medical Center." Jordan did not have a good impression of this hospital as he lost his sister in the emergency room there years ago.
But in 2020 when he was taken there in the worst time of his life, he says, "My stay there in the COVID unit was excellent,' he explained. "I couldn't have asked for a better group of nurses to take care of me." The three-term sheriff started feeling the onset of symptoms in Sept 2020 and was advised to take a covid test by his family doctor, Eric Dupree, M.D.
The result was positive and so he had to get admitted after his health got worse and he could not eat anything. He spent the night at the Winn Parish Medical Center, but was transferred to a larger facility and placed on a breathing machine. The next morning, his wife, Dianne Jordan got a call that he'd have to be shifted out and be ventilated.
God worked a miracle that Rapides had an opening and the sheriff was transferred there, he said, "It's kind of a helpless feeling," Sheriff Jordan says. "You are laying there in that bed and can't do anything for yourself. I laid there for 21,500 minutes basically, and I had excellent care the whole time. I can't say anything but good about the staff and doctors. They changed my mind."
Both Jordan and his wife are active church members of First Baptist Church in Winnfield and said he got a new mission for his life after he survived a tough battle with covid. "As I was laying there, I and my good Lord had lots of talks," says Jordan. "I trusted Him at a young age. A lot goes through your mind. During that time, I promised to do more work for my Lord and spread His Word. Since then, I've had the opportunity to speak to several different churches and give my testimony. One thing I agreed to do with Him was to spread the Word."
He did not wait to be discharged to start the Lord's work but while at the hospital, he started ministering to the medical staff that was taking care of him. "I prayed with each of the nurses that came in," he says. "I asked them if they minded if I prayed with them. They didn't and I prayed that God would take care of them as they ministered to us that were sick."
He was discharged in Oct 2020, as Hurricane Delta approached Louisiana, he weighed 50 pounds lighter and was feeling strong. Patrol units of the sheriffs' offices and Rapides parishes were waiting in the rain to escort Jordan home. His wife of more than 40-years saw him for the first time after taking him to the emergency room more than two weeks ago.
"The days were long," she shared. "We have a wonderful neighborhood and a lot of his staff also brought items to me and kept me going. In our church, my Sunday School class, we had everyone in town praying for us. We had all denominations in our community praying for us, and it does make a difference.
"We appreciate everything everyone did," she continued. "I know some of the people don't make it, and that is hard on (the nurses). It is good to see people who love their job. I think God's hand was in it and He knew where he needed to be."
"It took me a few months to recover before I could come back to the office and work," Sheriff Jordan added to his wife's comments. "The reason I'm here is because of God's grace. He saw to it to have the right people in the right place to take care of me. That's the only reason I, or anybody, is here. I'm thankful. I give Him the credit for everything in my life.
"In good times, we sometimes don't thank God enough. In bad times we call upon Him. I hope I serve him more and more. I'm not perfect, but I try to do the right things."
What a great testimony it was to hear the sheriff talk share about his miraculous healing from covid at a time when death was being reported every quarter due to the pandemic. Our God is a great healer and He is faithful to the end to His people who serve Him and His kingdom.