This kind doctor had a special concern for his child patient's speedy recovery. He promised to dance for him as soon as he was feeling better. And when he started showing signs of improvement, the doctor does dance for him in a touching way!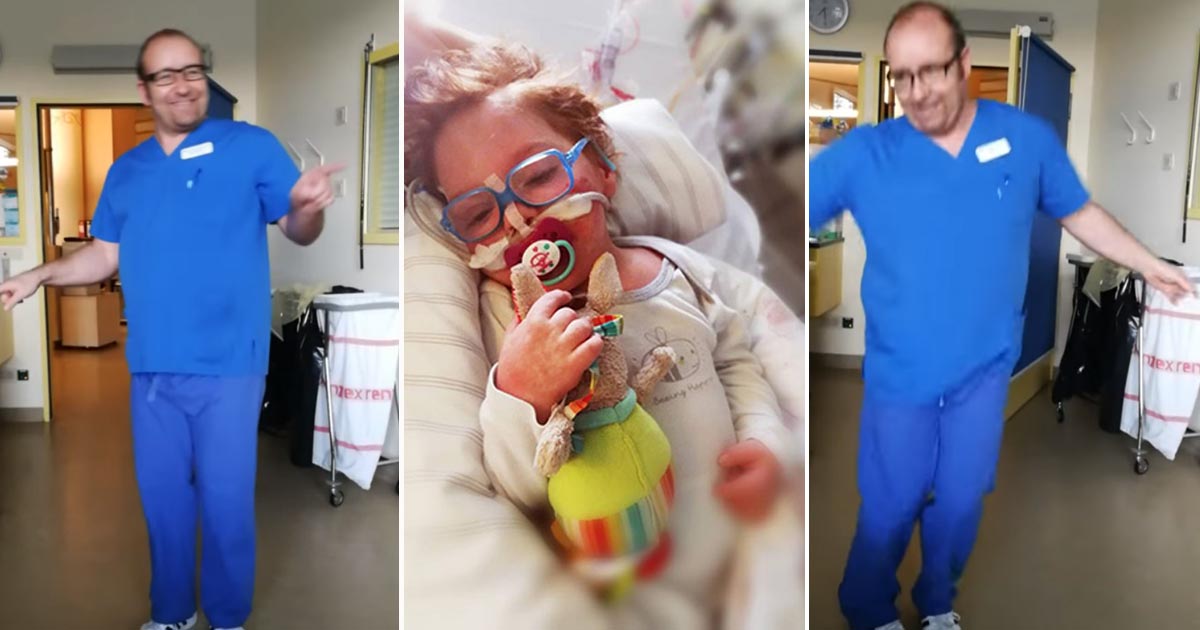 4 year old Gerrit suffers from an extremely rare gene defect called, Microcephalic osteodysplastic primordial dwarfism (MOPD) type 1. This kind of genetic condition severely affects a child's development and health. There are almost 10 children worldwide live with this kind of genetic disorder.And Gerrit is one among them!
Gerrit was admitted at hospital and the doctor who looks after him wanted him to recover soon and gave him a sweet promise to dance for him on his healthy recovery! After the four weeks treatment at HSK in Wiesbaden, Germany, Gerrit has started to show some sign of improvement. That's when his doctor delivered what he has promised to his little patient.
Watching him caring for his patient with a sweet gesture of love will make us feel happy. The heartwarming video shows the doctor is joyfully dancing at the room of Gerrit. And the child is happy to have such loving doctor for his caring. We pray and believe that God will heal little Gerrit with a perfect health!
Lieben guten Morgen meine Lieben

Es darf auch mal gelacht werden..

Es gibt Momente im Leben, da fällt einen sehr viel Ballast von den Schultern. Es gibt auch Momente, da darf mal Spaß gemacht werden und gelacht werden. Gestern Abend war so ein Moment.

Unser.. Nein.. Einer der vielen tollen Stations Ärzte der Intensivstation K12 in der HSK Wiesbaden meinte vor einigen Tagen, wenn es dem kleinen Kerl gut geht.. Dann tanzt er. Nun ja, gestern Abend war es soweit.. Zu den Klängen von Culcha Candela – Von allein.. Legte er einen Tanz hin.. Der bei uns, bei Gerrit und vielen Schwestern ein Gefühl von Freude, Leichtigkeit und Glück hervor rief. Diese knapp 4 Minuten brachten soviel Freude und man merkte die Anspannung der letzten 4 Wochen.. Die von Allen abfiel.

Liebe Ärzte, liebe Schwestern der K12. Wir danken Euch von ganzem Herzen, dass Ihr die letzten 4 Wochen für Gerrit gekämpft habt und Ihn nie aufgegeben habt. Wir haben viel geweint und viel gelacht und Ihr habt immer ein offenes Ohr für uns gehabt.

♥️♥️♥️ Vielen, vielen lieben Dank ♥️♥️♥️

Euch meine Lieben Freunde, danken wir von ganzem Herzen für die vielen, vielen Genesungswünsche und due vielen Mut machenden Worte. Auch Ihr seid Alle was ganz besonderes.

♥️♥️♥️ Vielen, vielen lieben Dank ♥️♥️♥️

Ganz liebe Grüße

Steven, Silke, Gerrit und Sophia

Good morning my dears love

It may also be laughed ..

There are moments in life, when a lot of ballast falls from the shoulders. There are also moments when it should be fun and laughed. Last night was such a moment.

Our .. No .. One of the many great stations doctors intensive care unit K12 in the HSK Wiesbaden said a few days ago, if the little guy is fine .. Then he dances. Well, yesterday evening it was time .. To the sound of Culcha Candela – By itself .. He put down a dance .. He called out to Gerrit and many sisters a feeling of joy, ease and happiness. These almost 4 minutes brought so much joy and you could feel the tension of the last 4 weeks .. Which fell away from All.

Dear doctors, dear sisters of the K12. We wholeheartedly thank you for fighting the last 4 weeks for Gerrit and never giving up on him. We cried a lot and laughed a lot and you always had an open ear for us.

♥ ♥ ♥ ️ ️ Thank you, many thanks ♥ ️ ♥ ️ ♥ ️

Thank you, dear friends, we wholeheartedly thank you for the many, many wishes for recovery and many encouraging words. Also you are all something very special.

♥ ♥ ♥ ️ ️ Thank you, many thanks ♥ ️ ♥ ️ ♥ ️

Lovely wishes

Steven, Silke, Gerrit and Sophia

Posted by Unser Kleiner HELD / Gerrit's Welt on Friday, April 6, 2018