A beautiful moment was shared on social media of a dad with dementia who was emotional on being gifted a stuffed animal. People with dementia are difficult to take care of as they lose memory of their entire life and family caregivers are often faced with the huge task of starting from square one.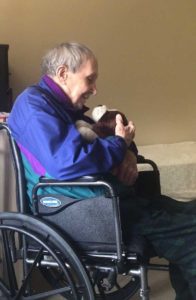 When this family visited their 90-year-old dad who was in the nursing home, their beloved family dog was the only one missing. It wasn't allowed in there and so the relatives decided to surprise their dad with a stuffed animal dog which he could hold and talk to.
The clip shows the father playing and patting the stuffed animal and speaking to it, this emotional video will definitely make you grab a few tissues. We agree that this was the best gift they gave their dad, because it brought home so many fond memories and times for him.