Doctors, nurses, caregivers, and paramedics are facing an unprecedented workload due to the novel coronavirus with no end in sight. Not only are they working in stressful conditions, but they are under-protected, overworked, and have to stay for long periods away from their families.
An emotional moment when a doctor returned home to surprise his kids after spending nearly four weeks apart has been shared on social media and is going viral.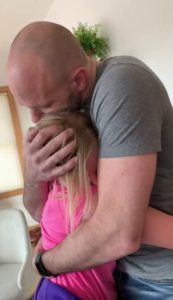 The loving dad Dr. Pete Olsen can be seen sneaking up on his daughter, Ella, 10, and son, Sam, 7 to reunite with them and the joy and happiness on their faces is so clear to see.
Pete, 40, is an ER doctor and Vice President of medical affairs at a rural hospital in Northern Minnesota and because of the COVID-19 pandemic, he was required to spend every day and many nights at the hospital, coordinating staff.
In March, Pete and his wife Angela, 38, had to make a difficult decision for him to move out of their home in Duluth, Minnesota, to be closer to where the hospital is located.
Pete and Angela had to make this decision to protect their son Sam, who has Down syndrome, as they were not sure how his body would respond to the novel coronavirus.
But on April 17, with 48 hours of downtime, Pete decided to return home, where, Angela was filming Ella playing her ukulele, while her father snuck up on her.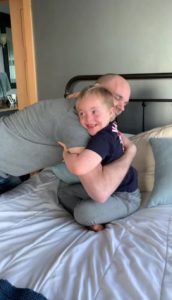 A surprised Ella yelled, "Dad!" and ran into her father's arms. They then went to surprise Sam, who was happily bouncing up and down on the bed as dad hugged him tightly.
We hope this family gets to catch up on all the lost time and gets to spend a lot of quality time together before Doctor Pete goes back to duty again.