A heartwarming moment of a soldier 'dad' reuniting with his dog, after spending six months on deployment has been captured on camera, and is melting hearts all over the country.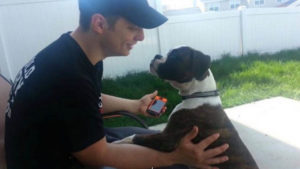 28-year-old Staff sergeant Coty Cloud, has been serving in Al Asad, Iraq, and had to leave behind his wife, Ado, 30 and his two pooches, 6-year-old Athens, a European Boxer, and a 10-year-old Shih Tzu/Corgi Max dog.
The video was taken by Kayla who knew that Athens is Coty's best friend, and so she wanted to record their reaction on meeting each other after a gap of 6 months at their home in Las Vegas, Nevada.
The pooch can be seen wagging his rear and jumping up on Coty in complete excitement and seems to never end, because Kayla says that it went on even an hour after the camera was shut off.
Are you still not convinced that dogs are a man's best friend? Then watch this video again.