A recent story about a dog waiting eagerly to give his favorite mailman a hug is warming hearts all over the country.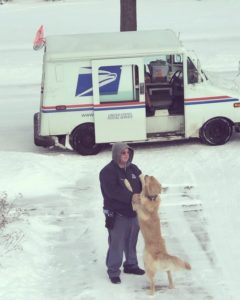 One and a half year old golden retriever, Moose, lives in Grand Rapids, Michigan, with his human parents. He has a lot of affection for the neighborhood mailman as chronicled on his Instagram page.
It was in early 2020 that a new mailman walked up the driveway to drop off the mail. Moose watched the mailman from the window, until in January he begged his parents to let him out so that he could meet his new best friend. Moose sat patiently in the driveway when the mailman walked toward him, with a big smile on his face.
Moose started wagging his tail with excitement and was unable to contain himself as he greeted the mailman with enthusiasm. He jumped up toward the mailman, and the mailman reciprocated by scratching his ears and petting his soft golden fur. Meghan Gruszynski, Moose's owner, saw the delightful sight of these two, "It was adorable," Gruszynski said. "I loved how much he loved our boy and loved how much Moose loved saying hi to him."
Their meetings became regular and the family got to know some painful details about their mailman's personal life, that he was grieving the death of his own dog. Moose was a bright spot for the mailman. "I've come to find out our mailman's dog recently passed away," Gruszynski said. "He loves how much love Moose gives him every time he is out on his route."
Last week, Gruszynski shared a clip of Moose and the mailman, saying it had been a week since they last saw one another. "A heartfelt reunion!" she wrote.
Gruszynski said she looks forward to see their relationship grow with time. "Hopefully it continues for many, many years!" she said. "He's our mailman 'til he retires, so it should be fun watching their love."