Dwayne Johnson, "The Rock," gave his baby–his truck, to his fan, a navy veteran. This lucky fellow was shocked and in tears when the keys were given to him.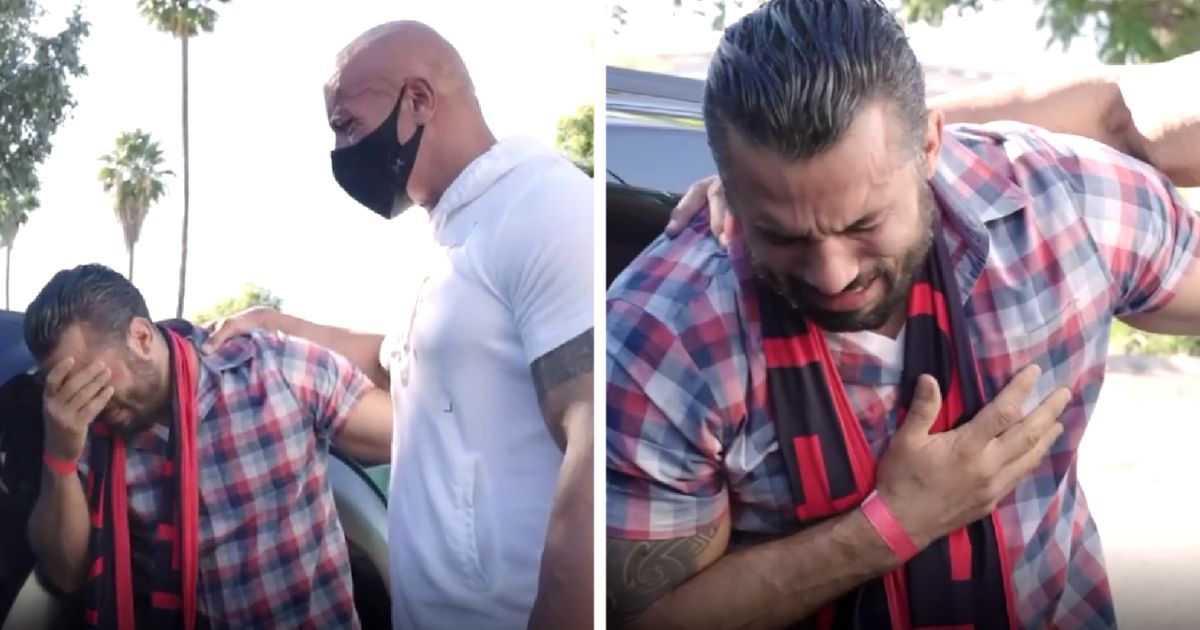 I guess, who would not be shocked to receive a truck from your idol? Oscar Rodriguez, a navy veteran and personal trainer in a gym, was in for probably, the biggest surprise in his life when he went to the special screening of Netflix's Red Notice. The movie features "The Rock" as one of its main actors.
It was a pleasant surprise when Johnson stepped into the cinema, and his fans screamed in delight when they saw him. But wait, there's more! He started to tell about a person who has been doing great things for people and called Rodriguez to come to the stage.
It's as if these two have known each other for a long time already. After several hugs, Johnson honored Rodriguez for being a champion for women, a good son to his 75-year old mom, a leader in the church, and a faithful servant to the country (navy veteran). Rodriguez is not just a leader in the church; he also prepares meals for women who are victims of domestic violence. He takes care of his elderly mom and works as a personal trainer in a gym as well.
Guess this man has a lot on his plate! Oscar was ecstatic and was not expecting this at all. He inspired the people to continue to do good and said, "Let's change the world, one person at a time!" It was a surreal moment for him to meet a superstar and be honored in front of many people.
This encounter was definitely, one for the books. But, Dwayne still had something up his sleeve. After the screening, he invited the delighted fan to come with him.
He led him to his truck and asked him to read a card inside it. Oscar did not know what awaited him. "I got this. I wrote this card for you. It's a little thing," said Johnson. A note was on the dashboard which stated, "Thank you for your service, brother. Enjoy your new truck."
Rodriguez could not believe what he had read. He dropped to his knees and immediately gave the movie star a tight hug. He was in tears and could not believe that he now owns the customized, personal truck of "The Rock."
It was an emotional moment for both men. The thankful lad even turned on the engine and gave his girlfriend a call. She was equally shocked when she saw Johnson was with him. This celebrity kept on telling Oscar that he had been doing a lot of good for people, and this was his way of showing appreciation for his kindness.
"Thank you, bro. It's just love," Rodriguez said. Johnson replied, "It's just love. I got you, bro." And just like that, after watching a movie, Oscar got a Ford customized truck from the Christian celebrity.
Dwayne originally wanted to give him the Porsche Taycan he used in "Red Notice," but Porsche did not allow him to.
Just the same, this gift was extra special. God is ultimately the "Great rewarder." He takes into account every kind act we have been doing for others. He used Johnson to show Rodriguez that He cares for him and wants to bless him. It's also touching to witness how tender this celebrity's heart is toward others. Indeed when God blesses, there's no limit to how big it can get.
"Every good and perfect gift is from above, coming down from the Father of the heavenly lights, who does not change like shifting shadows." James 1:17