This baby boy is truly a bundle of joy for many, most significantly, for his dying dad. He got his last wish when the nurses laid his newborn son on his chest a few moments before he died in the ICU.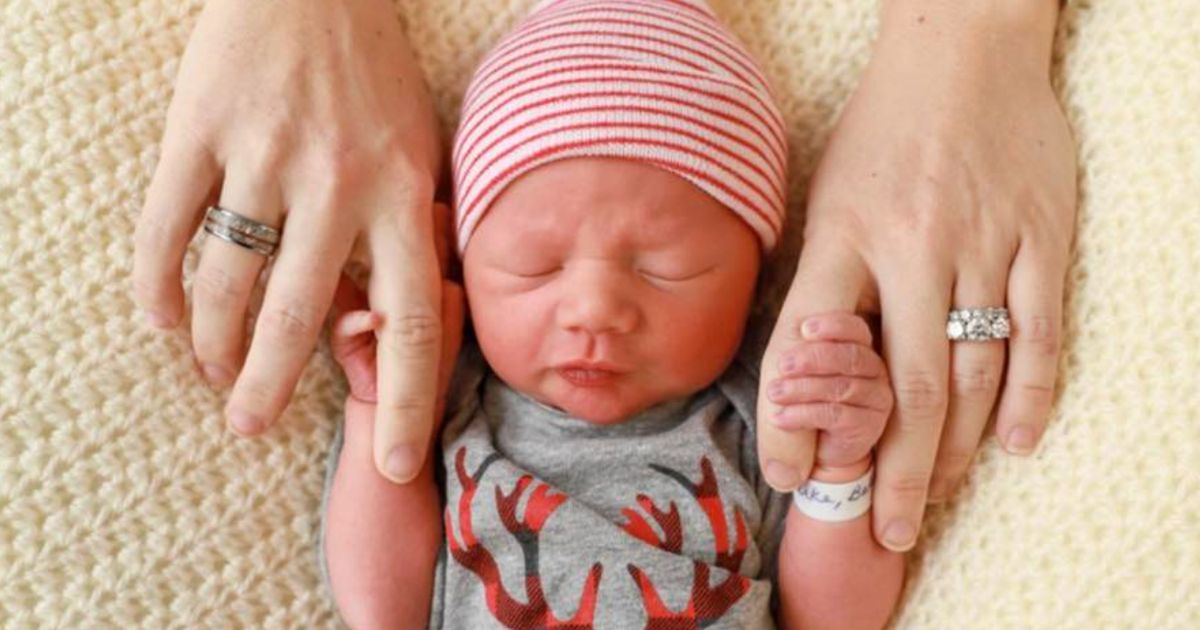 Last December 2, JB and Haley Parke welcomed their second child. His delivery happened not in the most ideal and happiest circumstances, but it was unforgettable. "This boy entered the world in the most brave and magical way, with a very big miracle to fulfill in a short matter of time," Haley posted on Facebook.
JB was admitted to Hartford Hospital due to complications of cancer. His initial six-month prognosis was turned into days only. Their baby was due to come out in three weeks. The couple decided to have an early delivery so that the father and son could still have a chance to see each other with the limited time JB had.
The doctors prepared Haley for the induction process, expecting her to give birth through normal delivery. "I kissed my sweet husband goodbye and told him to be strong and hold on for me and the baby – he said he would," this hopeful mom wrote. But, things started to get worse. The ICU doctors came in and told her that her husband's health was declining fast. He might not have the chance to meet their baby. Haley knew she had to make a decision–fast. She went under the knife and opted to undergo C-section instead.
"In a matter of literally one minute, I was in the OR, and in just a short 20 minutes later, our son was born. He was given to me for a quick kiss, and then a team of doctors and nurses ran him up two floors, and he was placed on his daddy's chest," she narrated.
The moment his youngest son was placed on his dad's chest, a miracle happened! "Jb's vitals all instantly improved. He was also acknowledging our son was there by making small head movements and sweet moans," Haley wrote. She was wheeled into the ICU after giving birth. She spent her recovery time in the ICU gazing at her dying husband.
Everything happens for a reason. As Haley held her husband's hand while their baby was on his chest, JB took his last breath.
Mission accomplished for this couple! The story might have ended sadly, but this loving father was given the opportunity to spend the most precious last few moments of his life with his newborn son by his side.
Their story was not yet over. "Delivering a baby three weeks early can come with a slew of complications that can require NICU time and breathing support. God prepared our son for this very moment because he came out weighing 7 lbs. 4oz. at 20 inches long, with fully developed lungs that let out the sweetest of cries," this grateful mom wrote.
There were no dry eyes in the OR and ICU when all of these happened. Everyone went out of their way to help this family. They were amazed and touched by the love expressed during these brief, difficult moments. Haley concluded, "Some called my actions brave and heroic. I just call it love. I acted out of love. I put my trust in God that this was part of his plan, and I did what I had to do, out of love, to fulfill my husband's last wish."
There was no better way to honor this father's love for his child than to name this newest member of the family after him. "So, it is my pleasure to announce the birth of our brave, amazing son, John Beeson Parke (Jb)," Haley ended her post by introducing her son to the world.
This heartbreaking yet love-filled post has gone viral. Thousands of shares, comments, likes have poured in. Many were inspired and touched by the Parke family.
Let's make every moment count. JB made his last hours, minutes, and second count by spending them with the people he loved. Little JB won't recall how this moment felt like or how his dad looked like, but surely, his heart would never forget the immense love his father gave.
"Teach us how short our life is so that we may become wise." Psalm 90:12 (GNT)