A photo of a cop washing a mentally ill woman's feet quickly became viral, now here's the story of what happened next.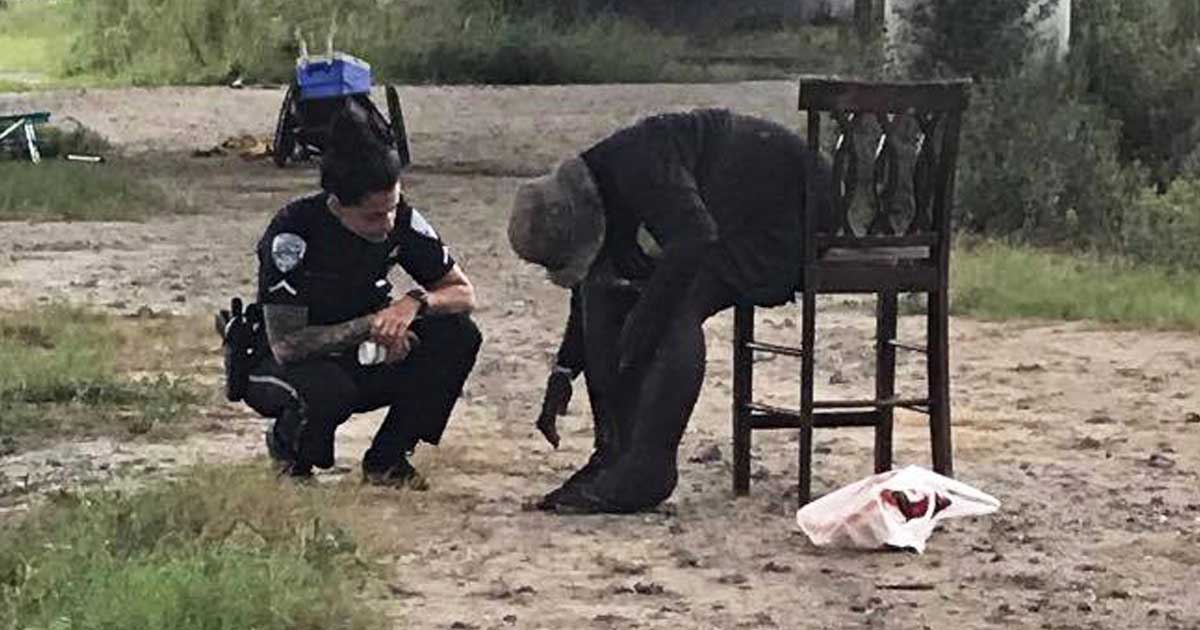 Martha Ruth Lohnes is the police officer from South Carolina who works as if she is serving God. She says she loves working in tough neighborhoods where she can show the love of Jesus to the people. "Kind of bad areas with bad things going on, that's where I can shine the most and be the most light," Martha Lohnes says.
Martha washed the feet of mentally ill woman Priscilla who lives in the same community Martha works in. Priscilla sits in a rotting chair under a bridge with severely swollen legs due to an infected foot. While many choose to ignore her, compassionate cop Martha checks on her regularly and goes above and beyond to help her.
"She refuses to go to the hospital although I have called an ambulance for her several times," Martha said on Facebook. "I have begged her to let me take her to the hospital but she's so stubborn and I can't force her."
So she took matters in her own hands and bought some first-aid solution and got down on her hands and feet to tend to this woman's wound. Martha's partner took a photo as she washed Priscilla's foot.
When Martha saw the photo, she was in two minds whether to share the image or not on social media, she says she was never chasing after recognition, but ultimately decided to share it as the story behind it was very powerful.
All the while God was quietly working behind the scenes, As Martha Lohnes acted as the hands and feet of Jesus for Priscilla, it became clearer to her that for this reason she became a police officer.
"We [police officers] get on our knees in the dirt to show love by washing the feet of those others would reject. Moments like these are the reason I am so passionate about what I do," she explained. "I have never felt closer to Jesus than when I don my uniform and serve those who just need to be loved on."
Yes its true that the job of a police officer is one of the toughest in the world, but according to Martha Lohnes, it is even more tough to be a part of the police family, as people hate them and wish they were dead. "My heart remains at peace because I know I'm doing God's work," Martha said. "As is every man and woman I proudly serve beside."
Martha earned a lot of goodwill from all around the country for her kindness towards Priscilla, but along with that came the trolling which happened on Facebook and in real life too, which meant that Martha had to take a break from Facebook for a while.
But something really good came out of all this, Martha learned that she wasn't the only one helping and taking care of Priscilla, because the Charleston County EMS was also checking on Priscilla regularly giving her medical attention, food and clothes as well.
"They are the ones who deserve the recognition," Martha said. "They are the real representations of Jesus and should be thanked a hundred times more than I."
The paramedics managed to convince Priscilla to get help at the hospital. Martha, the EMS, and the Fire Department continued to visit and treat Priscilla and her foot healed.
But God was still not done.
The viral photo led to a reunion of Priscilla with her family members who had been looking for her, "I have been in contact with several of her relatives who have finally been able to shower her with love and prayers and necessities. Today I met three family members who were under the bridge dancing and singing and praying over her," Martha reported.
The family helped convince Priscilla to get off the streets and let them take care of her, and with all the criticism Martha was at peace knowing that God used her for a bigger purpose.
Martha Lohnes' has been in the spotlight before too when she showed compassion to a 2-year-old who called 911 for help putting on her pants, and she is still in touch with her.
It is God who is and always behind every act of kindness committed by anybody, because on our own we can never be kind and compassionate without the Holy Spirit helping us in it.
May our country see more godly and spirit filled police officers like Martha Lohnes, who are called to serve in the police department out of love and compassion for their fellow human beings.